Become a Dealer. Bike Rooms throughout America have been challenged by the increased popularity in Biking. BikeRoomSolutions.com  a manufacturer and master stocking distributor provides dealer opportunities. Widely used nation wide in Condo's, Co-ops, Apartment Buildings, Hotels, Parking Garages and Hospitality.  Dealers enjoy wholesale pricing,  Shipments made with your company name on the packing slip, Complementary Layouts, Promotional flyers. If you are a seasoned veteran or just starting out looking for a no investment opportunity send us an email detailing your experience and customer base. Sales@BikeRoomSolutions.com We ship nationwide daily, Contact us today for immediate assistance.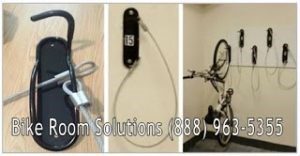 Bike Room Solutions focus is on space saving, Easy to use bike rooms. Our #42488 Wall Mount Bike Brackets has been designed to meet the needs of today's bike rooms nationwide. Manufactured with cushion coated steel with a Powder coat medium gloss finish. #42488 is one of the few wall mount bike brackets that have been designed to lock bikes in place. Attached to each bracket is a five foot long, Cushion Coated Security Cable that can be wrapped around the bike frame, Both rims and secured with the bike owners lock. Our Bike Techs provide Complementary Bike Room Layouts, Feel free to use the form in the link above or email us for immediate assistance. Sales@BikeRoomSolutions.com
Wall Mount Bike Brackets Generate revenue. Today most developers, landlords, condo boards, apartment buildings and parking garages charge a monthly rental fee to use the bike room. Rental rates range from $10.00 to 15.00 per month. Bike Rooms with 60 bike spaces renting out for $10.00 per month will generate $7,200.00 per year in revenue. The ROI averages 7 -8 months.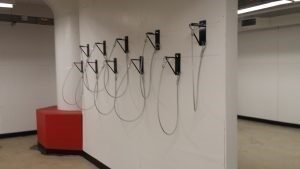 BikeRoomSolutions design service for dealers is free. We provide a easy to use bike room layout form to be filled out by you or your customer. If your customer already has drawings or a sketch of the bike room forward it, We will assist your with the layouts. Using a ruler for onsite field layouts is a must. Measure twice, Install once. Our Complementary Bike Room Layouts comes with a complete list of bike room set up tips to help create a space saving, Easy to use bike room that is Maintenance Free and Self Managed.