Wall Mount Bike Brackets. No Lifting needed. #42488 wall mount bike brackets allow users to roll the bike tire onto the brackets with minimal lifting of your bike bike, #42488NL has taken off throughout NYC. This user friendly bike storage minimizes the need to lift the bike on to the bike bracket. If you can lift your bike onto a curb, This bike bracket is for your bike room. Bikers can roll the bike onto its back wheel, Then roll the bike up the wall to the cushioned bike hook and store the bike, The bike can then be secured by looping cushion coated security cable through the bike frame and bike tires and further secured with a padlock. Upon mounting the bike, the bike can be swiveled to the right to increase aisle space. Bikes can be stored just 14″ apart. We alternate the heights of the brackets so the handlebars don't touch other bikes.
No Lift Bike Brackets can be swiveled either left or right to create additional aisle space when needed. See below.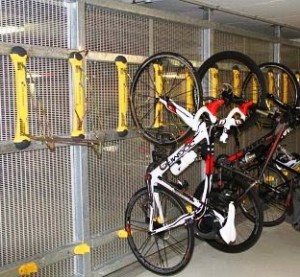 Wall Mount Bike Storage has proven to be the most space efficient way to maximize bike room storage space. Converting bike rooms to wall mount storage increases existing bike storage by 50%. Bike Room Solutions provides complimentary bike room layouts. Bike Room management tips to help you maintain a user friendly bike room long term with no maintenance required. Our #NL1888 wall mount bike brackets comes with a 5 year warranty, We ship Nationwide daily.
Contact us today for immediate assistance at (888) 963-5355. Or, email: sales@bikeroomsolutions.com
Wall Mount Bike Brackets New York City. Wall Mount Bike Brackets free delivery to New York City, Baltimore, Chicago, Detroit, Philadephia, Orlando, Miami Beach, Daytona Beach, Tampa, Fort Lauderdale, Tennessee, Atlanta, Virginia Beach, Washington DC, Brooklyn, New Jersey, Jersey City, Newark NJ, Minnesota, Los Angeles, San Francisco, San Diego, Seattle, Austin Texas, Dallas, Las Vegas, Connecticut,