Bike Cages,  Secure Bikes in Residential Buildings, Parking Garages, Basements. Free layouts, Quick Quotes, Fast delivery & Installations, Lifetime Warranty.  Bike Storage Cages Manufactured with 8ga welded wire in rust resistant galvanized and 5 standard powder coat colors.
Bike  Cages can be installed 4 sided, 3 sided, two sided or 1 sided. Consider using existing building walls as a side to reduce cost. Bike Cages can be installed 8′ high or to the buildings ceiling or our factory trained install techs can add a ceiling to the bike cage.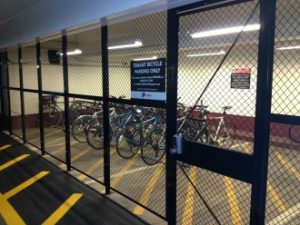 Locks can be cylinder locks, Welded hasps for padlocks, Card Swipe, Key fob or IC Cored to your lock system. For added security Bicycle Cages are supported with the sturdiest posts in the business. Each post is 2″ x 2″ x 1/4″ thick to the height of the cage.
BikeRoomSolutions.com delivers Bike Cages, Bike Storage Cages Nationwide from 12 distribution centers daily. Our team provides Code Compliant Complimentary Layouts six days a week, Fast quotes and Professional Installations.
BikeRoomSolutions wall mount bike brackets are ideal for indoor or outdoor use. Designed to allow bikes to be spaced just 12″ apart. Manufactured with Cushioned steel with a shiny black powder coat finish. #42488 Wall Mount Bike Brackets come with a 5′ long, Cushion coated security cable that can be wrapped around the bike frame, Both rims and secured with the bike owners lock.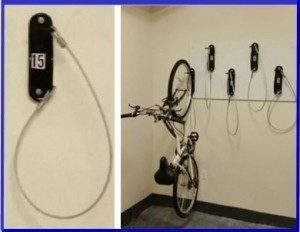 For maximum bike storage, #42488 wall mount bike brackets can be spaced just 12″ apart. We alternate the bike brackets 64″ & 74″ from the ground to the cushioned bike hooks. Contact us today for immediate assistance. Sales@BikeRoomSolutions.com
Bike Cages, Bike Security Cages, Bike Room Cages,  Bike Storage Cages, Bike Cages delivered daily to New York, Chicago, Los Angeles, Florida, Georgia, Oregon, Seattle, California, Pennsylvania, New Jersey, Maryland, New York City, Brooklyn, Jersey City, Washington DC, Minnesota, Tennessee, Massachusetts, Missouri, Texas, Michigan, Ohio, Arizona, Nationwide deliveries.