Tenant Storage Cages NYC. Est. 1909. Stocked in New York City, Complimentary Layouts, Lowest overall cost, Lifetime Warranty. Generates excellent Revenue. Manufactured with 4ga welded wire in durable galvanized or powder coat gray and black. Stocked in Single Tier – Walk in and Double Tier – Stacked. Each Tenant Storage Cage has a full height anti – theft lock bar for added security.
4ga welded wire is double the welded wire thickness of 10ga providing double the security for less. Tenant Storage Cages are typically attached directly to the rooms walls and floors. Tops, Back, floors and shelves can be added to the cages as options. Rows in the middle of the room come with backs as standard.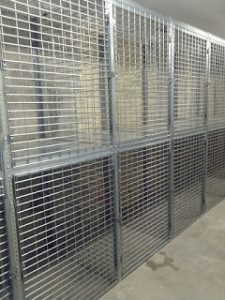 Two Tier Tenant Storage Cages are widely used on the five boroughs. They will maximize the smallest foot print. Stocked 3′ wide, 4′ wide and 5′ wide x 3′ deep, 4′ deep and 5′ deep. Standard heights 90″. Larger size tenant storage cages also stocked in NYC in Single Tier. Our modular design allows us to build any size tenant storage cage cost effectively.
Tenant Storage Cages NYC generates excellent revenue. Most residential and office buildings today charge a monthly rental fee for on site tenant storage ranging from $85.00 to $300.00 per month. A building with 60 tenant storage cages renting out on average for $85.00 will generate $61,200.00 per year in maintenance free revenue. The ROI (return on investment) averages just 7-8 months.
Storage Cages are also stocked in our New York City and New Jersey facility. manufactured with 8ga welded wire in galvanized and powder coat black or grey. Ideal for securing inventory, creating perimeter barriers as needed.
Our team provides complimentary layouts six days a week in the 5 boroughs. Contact us today for immediate assistance. Our office is open Monday through Friday 6AM to 5PM and Saturdays from 6AM to 2PM. Sales@LockersUSA.com or P(917) 701-5795.
Tenant Storage Cages NYC, Tenant Storage Lockers NYC, Tenant Storage NYC, Tenant Storage Cages delivered daily to NYC, Brooklyn, Queens, Bronx, Staten Island, Long Island, Westchester. New York City.