Pallet Rack in Stock, Orders ship in 48 hours to the New York, New Jersey and Pennsylvania areas from our 190,000SF facility. Teardrop type uprights and beams. Uprights stocked from 96″ high to 240″ high in standard depths from 36″, 42″ or 48″deep..
Made in the USA. Wire decking for Pallet Rack is also in stock and available with our 48 hour quick ship programs. Our Rack Techs provide Complimentary, Code Compliant Layouts daily. Our inventory is New only pallet rack. We sell new only so that you have a good warranty versus no warranty compared to used. Providing safe storage solutions and limiting liability issues that can occur with defective used racking. Contact us for immediate assistance, We monitor our emails constantly and will respond ASAP. Email us at Sales@BikeRoomSolutions.com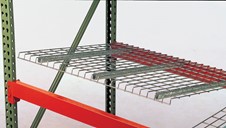 Also in stock is Pallet Rack Cage Doors and welded wire mesh side and back enclosures, Along with Post Protectors in three heights.
Proudly serving the NY, NJ, PA Tristate area for 111 years our Team will assist you from concept to completion. Providing exactly the rack system needed at the lowest overall cost and best warranty in the business. Our Rack Safety Team also provides complimentary rack inspections of existing rack posts and wire deck is in good condition. The Rack Safety survey will point out defects that could cause failure. Contact our Rack Techs today for a complimentary code compliant Rack Safety Survey. P(917) 701-5795.
If keeping pallets or boxes separate on the pallet rack beams and wire deck is needed we also stock pallet rack dividers made from welded wire galvanized steel that will keep your inventory neat and organized.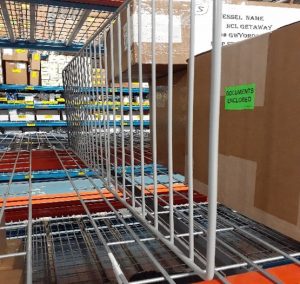 If you have existing Pallet rack and need to add to the system contact for immediate assistance, Our Team will make sure you get exactly what is needed. We also provide professional installations daily. Contact us now for a quick response. P(917) 701-5795.
Pallet Rack NJ, Pallet Rack NYC, Pallet Rack Philadelphia, Keystone Pallet Rack NJ, Pallet Racking Queens NY 11101, Pallet Rack Repairs New Jersey, Pallet Rack vertical dividers NJ, Keystone Pallet Rack NJ, Pallet rack cage doors NJ, Pallet rack wire deck, Pallet Rack delivered free to NJ, Philadelphia, NYC, Brooklyn, Queens NY, Staten Island, Bronx,