Wall Mount Bike Brackets #42488. We have improved our popular #1888 Wall mount bike bracket with our 2017 #42488. Using the same heavy duty construction design with powder coated black finish, we added tire guide bars to keep the bike from swaying. #42488 comes with a 5ft. long cushion coated security cable that can be looped around the bike frame, both tires and padlocked with the owners lock. P(917) 701-5795 or (888) 963-5355

Designed for indoor or outdoor use. Our bike brackets allows bikes to be spaced just 12″ apart. Children's bikes can be space 10″ apart. By alternating the heights of the bike brackets the handlebars will not touch adjacent bikes. Using wall mount bike room designs will increase bike room capacity by 50% compared to floor mount bike space making the entire bike room floor totally clear. When creating your bike room we recommend painting the walls with an eggshell finish for easy maintenance. If your walls are sheet rock we suggest adding plywood supports behind the bike brackets for secure anchoring as shown here. Bike Room Solutions provides complimentary bike room layouts. Contact us today for assistance. Email at Sales@bikeroomsolutions.com or give us a call (888)963-5355.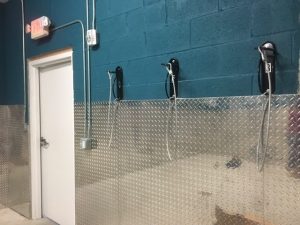 Bike Room Solutions P(888) 963-5355 or Sales@bikeroomsolutions.com
Bike Room Solutions is located in New York City. Our Wall Mount Bike Brackets have been installed in NYC, Brooklyn NY, Queens NY, Arizona,Baltimore, Boston, Chicago, Connecticut, Denver, Florida, Georgia, Idaho, Illinois, Kansas City, Kentucky, Los Angeles, Maine, Miami Beach, Minnesota, Mississippi.New Jersey, New Orleans, Ohio, Oregon,Orlando, Philadelphia, Pittsburgh, Portland, Rhode Island, San Diego, San Francisco, South Dakota, St Louis, Tennessee, Texas, Seattle, Utah, Vermont, Virginia Beach, Washington DC.
Wall Mount Bike Brackets NYC
BikeRoomSolutions.com 325 East 77th Street New York NY 10075