Bike Hooks Brooklyn NY. New 2017 Bike Hooks double bike room capacity. Free Layouts, Lifetime Warranty. As biking continues to grow in Brooklyn residential buildings bike rooms have been getting cramped and hard to maneuver. Here is a space saving solution.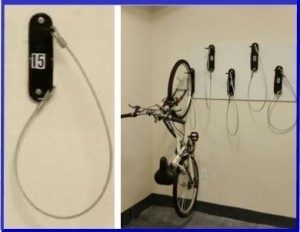 BikeRoomSolutions #42488 Bike hooks have become a solid solution. #42488 allows bikes to be stored just 12″ apart, Increasing bike storage capacity up to 50% over previous bike storage methods. Made with all welded steel with a shiny black powder coat finish and designed to be easy to use with minimal lifting, Our #42488 Bike bracket has been installed in hundreds of Brooklyn residential buildings.
Each of our bike hooks comes with anti-theft security cable that can be wrapped around the frame, Both rims and secured with the bike owners lock. Nothing will stop a bike robber from stealing a bike, But this security cable does help.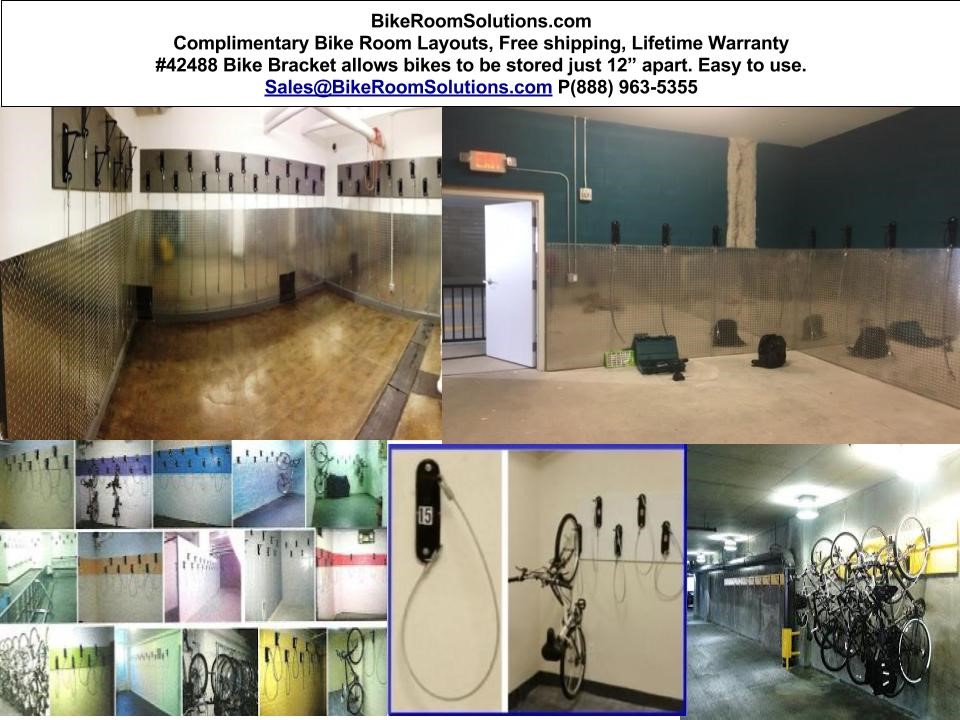 When setting up the bike room, If the walls are sheet rock we add plywood supports behind the brackets 2″ thick x 20″ high across all bike walls, We then paint the bike walls and plywood supports with an eggshell finish for easy removal of dirt marks with a wet cloth. Our BikeNicians then space the brackets 12″ apart, center to center. We then alternate the heights of the brackets 66″ and 76 " so the handlebars don't touch other bikes.
Backed with the industries only lifetime warranty, Our low cost brackets and design create a maintenance free bike room with the floor being totally clear to walk around safely.
If your about to create a new bike room or would like to rhave your existing bike room reconfigured to increase bike storage and eliminate waiting lists, BikeRoomSolutions provides complimentary bike room layouts. Our office and warehouse is open 6 days a week. Contact us today for immediate assistance. Sales@BikeRoomSolutions.com or give us a call P(917) 837-0032
Bike Hooks Brooklyn, Bike Hooks Brooklyn NY, Wall Mount Bike Brackets Brooklyn, Bike Hangers Brooklyn, Wall Mount Vertical Bike Racks Brooklyn. Bike Hooks deliveries daily to Park Slope, Fort Greene, Prospect Park, Williamsburg, Coney Island, Bushwick, Bedford Stuyvesant, Bay Ridge, Brooklyn Heights, Greenpoint, Crown Heights, Flatbush, Sunset Park, Red Hook, Brighton Beach, Gowanus, Bensonhurst, Canarsie, Carroll Gardens, Cobble Hill, Clinton Hill, Midwood, Dyker Heights, Boreum, Borough Park, Kensington,