Bike Wall Mount NY. Today's Bike Rooms need space efficient, Easy to use bike storage. Vertical Wall mount bike brackets increases bike room capacities by 50% compared to floor bike racks. #42488 Wall Mount Bike Brackets have been designed to allow bikes to be spaced just 12″ apart when space is tight. Manufactured with cushion coated powder coat steel in a medium gloss, shiny black finish.
#42488 bike brackets allow bikes to be locked onto the bike bracket. Attached to each bracket is a 5′ long cushion coated security cable that can be wrapped around the bike frame, both rims and secure with the bike owners lock. Our Bike Techs provide Complimentary Bike Room Layouts. Feel free to use the quick form in the link above or email us for immediate assistance. With the layout our team provides several bike room set up tips to help create a maintenance free, Self Managed Bike Room. IE: If the bike room walls are sheet rock or brick we recommend adding plywood supports over the bike walls for secure anchoring 24″ h x 2″ thick or add full plywood sheets over the walls. Our team can do this for you or we can provide detailed instructions. Prior to installing the bike brackets consider painting the walls in a matte or semi gloss finish for easy removal if dirt marks with a wet cloth for easy removal of dirt marks with a wet cloth.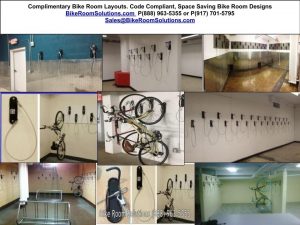 We alternate the heights of our brackets 64″ & 74″ from the cushioned bike hook to the floor so handlebars don't touch other bicycles. As mentioned when the bike room is small, bikes can be centered every 12″. Initially if the bike room is spacious we suggest installing the bike brackets on 24″ centers, All at 64″ from the cushioned bike hook to the floor. The when more #42488 bike brackets are needed install them in between the existing bike brackets 74″ from the cushioned bike hook to the floor.
#42488 Wall Mount Bike Brackets come with the industries only limited 5 year warranty. Bike Wall Mounts are stocked in our 3 NY locations, New York City, Queens NY and Brooklyn. Contact us today for immediate assistance Sales@BikeRoomSolutions.com our office is open Monday through Friday 6AM to 6PM and Saturdays 6AM to 4PM.
Bike Wall Mount Brackets delivered daily in New York, NYC, Brooklyn, Queens NY, Bronx, Staten Island, Long Island, New York State.