Wall Mounted Bike Brackets Chicago. Generates Revenue, Space Saving.   Easy to use,  Free Layouts, Lifetime Warranty. BikeRoomSolutions wall mounted bike brackets help alleviate congested bike rooms in residential, Office buildings and parking garages. Manufactured with all welded steel with a powder coat shiny black finish. Each 42488 comes with a 5′ long cushion coated security cable that can be wrapped around the bike frame, Both rims and secured with the owners lock.
Wall Mounted Bike Brackets #42488 Generates Revenue for Residential Buildings, Offices and Parking Garages in Chicago. charge a small monthly rental fee for bike storage from $10.00 to $25.00 per month. If a building provides storage for 50 bikes at $15.00 per month. The bike room will generate $9,000.00 per year in maintenance free Revenue.
Our Bike Room Specialists provide miles of complimentary tips to setting up and maintaining a bike room along with Complimentary Bike Room Layouts.  Our goal is to design a bike room that is easy for all bike owners to use, Keeping the floor totally clear for easy passage, While creating a space efficient bike room that will increase the bike rooms capacity and be in code.
With the #42488 wall mount bike brackets bikes can be spaced just 12″ apart when space is tight, We recommend adding plywood supports over the walls if they are sheet rock 2″ thick x 22″ high across the bike walls. Prior to installing the brackets, Paint the walls and supports with a semi gloss paint for easy removal of dirt marks with a wet cloth.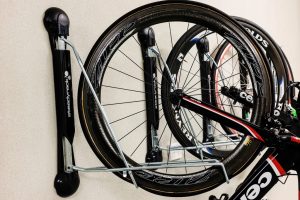 Bike Room Solutions also stocks locally Wall Mount Bike Brackets for Fat Tire bikes and E Bikes (electric) #NL1888 is also space efficient, designed to allow bikes to be stored just 14″ apart.
Our No Lift Fat Tire and E Bike Brackets holds bikes with tires up to 5″. The NL1888 is also a No Lift Bike Bracket. No lifting required to put the bike onto the bracket. Just tip the bike onto the back wheel and roll the bike onto the bike guide rails of the bracket.
Our #42488 Wall mount bike brackets have the industries only Lifetime Warranty. Contact us for immediate assistance. Sales@BikeRoomSolutions.com Phone (888)963-5355 or feel free to fill our Complimentary Bike Room Layout form.
Wall Mounted Bike Brackets Chicago, Wall Mount Bike Brackets Chicago. Wall Mounted Bike Brackets Chicago IL,  Bike Racks Chicago, Bike Hooks Chicago, Wall Mont Bike Brackets Fat Tire Chicago IL, Wall Mount Bike Brackets Electric Bikes Chicago. Wall Mounted Bike Brackets delivered daily to Chicago, Arlington Heights, Berwyn, Bolingbrook, Cicero, Des Plaines, Gary, Hammond, Evanston, Mount Prospect, Orland Park, Schaumburg, Downers Grove and all of Illinois.