Storage Cages NYC. Free Layouts, Lowest overall cost, Lifetime Warranty. Generates Revenue (see below). Equiptall's welded wire security cages are made with 8 & 10GA welded wire stocked in durable Galvanized, Powder Coat Black or Grey. Ideal to create inventory cages, Perimeter walls, Tenant Storage Cages, Server and Data room Cages. Based in Manhattan our inventory is available immediately. Our storage cage specialist provide complimentary on- site or online layouts. Professional installations at the lowest overall cost with a lifetime warranty.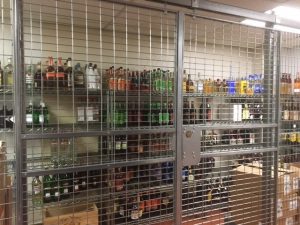 Our modular design allows us to build most heights needed cost effectively. Doors are stocked in Hinged, sliding and double sliding – dutch doors. Doors can be secured with welded hasps for padlocks, steel encased cylinder locks, key fob, push button locks, card swipe and bio metric. Doors can also be delivered with interior push bars for quick exit.
Our inventory also includes Tenant Storage Cages, Safety Fence to enclose equipment and protect employees. DEA Pharmaceutical cages and Loss prevention cages.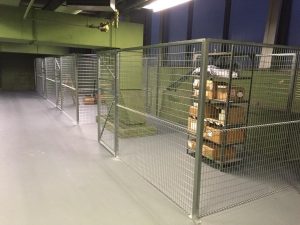 Our welded wire cages are stocked with grid openings 1-1/2″ x 3″ and 2″ x 2″ in 4GA, 6GA, 8GA and 10GA. Woven wire partitions stocked in 10GA.
Storage Cages Generate Revenue: Recently a Broadway Theatre cleaned our an entire floor that was filled with boxes, couches and bulk items not used in decades. They installed ten 8'H x 8'D x 8′ wide cages in the space and offered the new storage areas to vendors that supply the events with beverages, janitorial, gift shop items and dry goods for the food and snack vendors. Each cages has been rented out for $450.00 per month, Generating $54,000.00 in revenue.The quickly rented cages paid for themselves in less than 6 months. The vendors saved money by not having to make costly deliveries daily or weekly. Any building can generate revenue by turning under underutilized space into a revenue generator. Our storage cage techs provide complimentary onsite layouts 6 days a week. Contact us today for immediate assistance. Sales@LockersUSA.com or P(917) 837-0032.
Storage Cages NYC, Security Cages NYC, Tenant Storage Cages NYC, Loss Prevention cages NYC. Tool Cages NYC, Liquor cages NYC, Storage Cages Brooklyn, Storage Cages Queens NY, Wire Partitions NYC, Equipment Cages NYC. Storage Cages delivered daily to New York City, Queens, Brooklyn, Bronx, Staten Island, Bronx, Westchester, Jersey City and Newark,