Wall Mount Bike Racks Fort Lauderdale. Designed to allow bike to be spaced 12″ apart, Easy to use, Locking, Complimentary Layouts, Generates Revenue, Free delivery, Stocked Locally.
#42488 Wall Mount Bike Brackets are widely specified by AIA's, Developers, Condo Boards, Parking Garages and Facility Managers. As biking popularity has continued to grow, The need for space saving, Biker friendly bike rooms is necessary so that bike rooms don't become cluttered with unused bikes and the bike room floor is totally clear for safe passage.  Manufactured with cushion coated steel in a black, medium gloss powder coat finish. Attached to each #42488 is a five foot long cushion coated security cable that can be wrapped around the bike frame, both rims and secured with the bike owners lock. If the room is secure #42488 can also be ordered without the security cable #42488NL.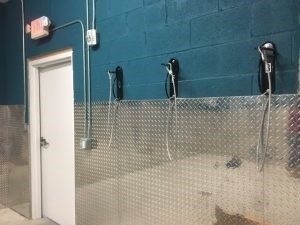 Bike Room Solutions with facilities in Daytona Beach and NYC provides Complimentary Bike Room Layouts and sound suggestions to help create a self managed, Maintenance Free Bike Room. Feel free to use the easy form in the above link or send us an email for immediate assistance. Sales@BikeRoomSolutions.com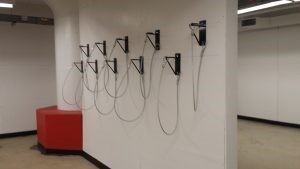 Wall Mount Bike Racks Fort Lauderdale generate good revenue. Today most residential buildings, parking garages, office buildings charge a monthly rental fee for onsite bike room storage ranging from $10.00 to $15.00 per month. Bike rooms with 50 designated bikes spaces renting out at $15.00 per month will generate $10,800.00 per year in revenue. The bike room will pay for itself in just 7-8 months on average, (ROI).
Our facility in Daytona Beach also stocks Tenant Storage Cages in Single Tier – Full Height Doors and Double Tier – Stacked doors. in 24 standard sizes. Manufactured with 4ga welded wire in Rust Resistant – Attractive Galvanized and Medium Gloss Black or Gray. Our office provides complimentary Tenant Storage Cage and Bike Room Layouts daily. Contact us today for immediate assistance. Sales@BikeRoomSolutions.com
Wall Mount Bike Racks Fort Lauderdale, Wall Mount Bike Brackets Fort Lauderdale, Bike hangers Fort Lauderdale, Wall Mount Vertical Bike Racks Ft Lauderdale FL 33301, Tenant Storage Cages Fort Lauderdale Florida 33301. Wall Mount Bike Racks delivered daily to Fort Lauderdale, Hollywood FL, Pembroke Pines FL, Coral Springs, Pompano Beach, Deerfield Beach. Florida.