Wall Mount Bike Brackets St Louis. Free same day shipping. Space Saving, Easy to use. Free layouts.  Lifetime Warranty. Manufactured with all welded steel. With a powder coat shiny black finish.  #42488 can be used indoors or outside. When space saving is needed as it is today along with ease of use. #42488 stands out.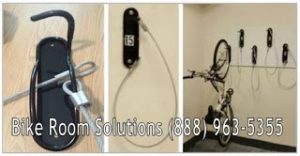 Built to last. The most space efficient bike bracket today. Designed to allow bikes to be stored just 12″ apart when needed and includes added security with the 5′ long cushion coated security cable attached to each bike that can be wrapped around the bike frame, both rims and secured with the bike owners lock.
Our Bike Room Design team provides complimentary bike room layouts and bike room design tips that will help keep the bike room easy to use and space efficient.  If the bike room walls are sheet rock we recommend adding 2″ thick plywood supports over the sheet rock, 20″ high across the bike walls. Then paint the bike walls and plywood supports with an eggshell finish for easy removal of dirt marks with a wet cloth.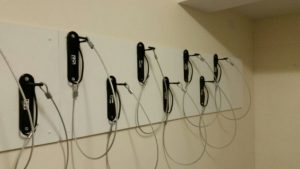 Wall Mount Bike Brackets Generate Revenue in St Louis. today many developers, landlords and property managers rent out bike space in their residential buildings, offices and parking garages averaging $10.00 to $20.00 per month per bike. A bike room renting out space for 50 bike at $15.00 per month  would generate $9,000.00 in maintenance free revenue when using #42488 wall mount bike brackets. The bike rooms typically pay for themselves in just 4-5 months. (ROI).
Today it is important to charge something for bike storage.  any fee may encourage bike owners that no longer bike or children's bikes they have outgrown to be removed rather than pay the rental rate. Freeing up needed space for others.
Bike Room Solutions provides complimentary bike room layouts, Free delivery and lifetime warranties at the lowest overall cost. Contact us today for immediate assistance. Sales@BikeRoomSolutions.com or call us P(888) 963-5355 or feel free to use our handy bike room layout form.
Wall Mount Bike Brackets St Louis, Wall Mount Bike Hangers St Louis, Bike Storage St Louis, Bike Racks St Louis, Wall mount bike brackets Missouri, Wall Mount Bike Brackets St Louis MO.