Bike Wall Mount NYC. Increase bike room capacity 50%. Store bikes 12″apart, Easy to use, Locking, Creating user friendly, space efficient bike rooms, Leaving no bikes on the floor. Stocked in New York City. Complimentary Bike Room Layouts, Free Delivery.
Built to last, #42488 Wall Mount Bike Racks are manufactured with cushion coated steel with a powder coat, Shiny black, Medium gloss finish. Bikes can be locked onto the bracket. Each #42488 has a five foot long, Cushion coated security cable that can be wrapped around the bike frame and both rims, The secured with the bike owners lock.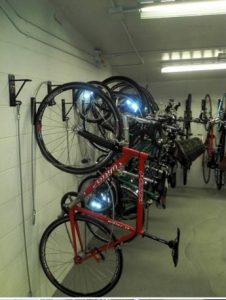 Our #42488 Wall mount bike brackets have been designed for today's New York City Bike Rooms. Designed to handle a wide variety of different size bikes, Space efficiently and code compliant while leaving the bike room floor totally clear for easy passage.
Initially if the bike room is spacious our Bike Techs suggest spacing the brackets every 24″, All at 74″ high from the cushioned bike hook to the floor. Then when additional #42488 bike brackets are needed, They can be installed in between the existing brackets all at 64″ high from the cushioned bike hook to the floor. We alternate the heights of the brackets 64″ and 74″ so the handlebars do no touch other bikes.
#42488 Wall Mount Bike Racks Generate good revenue. Today most residential buildings and parking garages charge a monthly rental fee to store bikes. Rental rates range from $10.00 to $15.00 per month. A bike room renting out space for 60 bikes at $10.00 per month with generate $7,200.00 per year in revenue. The ROI is usually within 6-7 months.
Our New York City Team provides Complimentary Bike Room Layoutssix days a week in the five Boroughs. Use the form in the link above or contact us for immediate assistance P(917) 701-5795.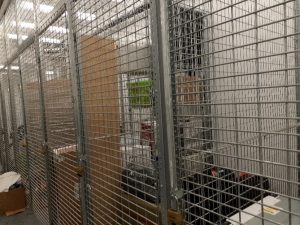 Our 109,000 square foot facility also stocks Tenant Storage Cages in single tier- full height units and double tier – stacked doors in 48 standard sizes in rust resistant galvanized, grey and black.
Tenant Storage Cages in NYC generate excellent revenue. Most residential buildings rent out storage cages from $65.00 to $150.00 per month depending on the size. A basement with 50 cages renting out at $75.00 per month will generate $45,000.00 per year in revenue. The storage cages typically pay for themselves within 7-8 months on average. Contact us today for a Complimentary tenant storage cage and or bike room layout today. Sales@BikeRoomSolutions.com
Bike Wall Mount delivered free to NYC 10014, 10003, 10013, 10004, 10022, 10021, 10075, 10024, 10023, 10025, 10001, 10198, 10011, 10012, Brooklyn, Queens NY, Staten Island, Bronx.