Wall Mount Bike Racks Queens. Assembled and Stocked in Astoria. Designed for today's bike rooms. Easy to use, Space Efficient and Locking. Built to last with the industries only 5 year warranty.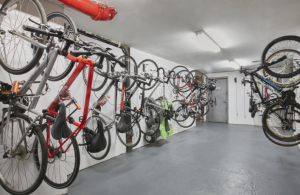 With increased bike ownership throughout Queens, Residential buildings have faced the need to reorganize bike rooms to be space saving, Easy to use with room to grow. Our Astoria Bike Techs have created a wall mount bike bracket #42488 that allows bikes to be spaced just 12″ apart when space is tight in the bike room. Manufactured with cushion coated steel with a shiny black, medium gloss powder coat finish. #42488 bike brackets allow bikes to be securely locked onto the bracket. Each of our brackets has a five foot long, Cushion coated security cable that can be wrapped around the bike frame and both rims, The secured with the bike owners lock.
#42488 Wall mount bike racks increase bike room capacity over 50% compared to floor racks. Leaving the floor totally clear and the room spacious. Our Ditmar's office provides Complimentary Bike Room Layoutsdaily to the five boroughs, Either online or on site. Feel free to use the quick form on the link above or contact us for immediate assistance.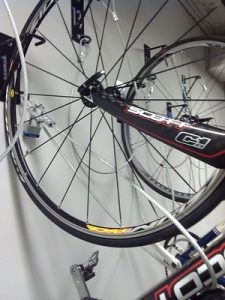 Wall Mount Bike Racks in Queens generate good revenue. Almost all residential buildings have faced economic challenges during the pandemic. Creating a user friendly bike room not only attracts potential tenants, It also generates good revenue with a quick return on investment. Most buildings charge a monthly rental fee to use the bike room averaging $10.00 to $15.00. Bike rooms renting out 50 spaces can generate up to$9,000.00 per year in revenue. The bike room typically pays for itself in 6-7 months.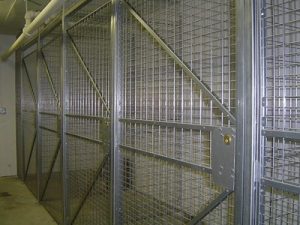 Our Astoria facility also stocks Tenant Storage Cages in Single Tier – Full height and two tier – stacked doors in 48 standard sizes. Our team provides complimentary tenant storage cage and bike room layouts daily in the 5 Boroughs. Contact is today for immediate assistance. Sales@BikeRoomSolutions.com
Wall Mount Bike Racks delivered daily to Queens NY, Long Island City 11101, Astoria, Brooklyn, Staten Island, Bronx, New York City.