Wall Mount Bike Hangers Brooklyn . Store bikes just 12″ apart, Free Layout, Generates Revenue, Lifetime Warranty. Space saving easy to use wall mount bike hangers in Brooklyn. BikeRoomSolutions has hundreds of wall mount bike brackets installed in Brooklyn. #42488 wall mount bike brackets popularity is due to the design. Manufactured with the bike owner in mind with minimal lifting and a spacious bie room with a clear floor for easy maneuvering. Each bike can be spaced just 12″ apart. We alternate the height of the brackets so the handlebars don't touch other bikes.
Made with all welded steel with a shiny black, Powder coat finish. Attached to each bike bracket is a 5′ long cushion coated security cable that can be wrapped around the bike frame, Both rims and secured with the bike owners lock. #42488 Bike bracket provides long term, durable use. Backed with the industries only Lifetime Warranty at the lowest overall cost. Our team provides complimentary bike room layout designs, Professional installations and free bike room management guidelines to help keep the bike room self managed.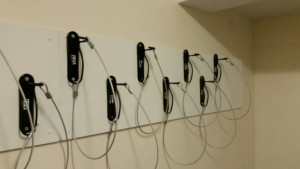 If the bike room walls are sheet rock (gypsum) Our install techs install plywood supports onto the wall for added anchoring. 2″ thick x 20″ high x the width of the wall. Then we recommend painting the bike wall and plywood supports in a matte or semi gloss finish so that dirt marks can be easily removed with a wet cloth.

The above picture show the plywood supports installed behind the bike brackets for added anchoring support. Our install techs can do this for you. Contact us today for a complimentary layout and quote. Sales@BikeRoomSolutions.com
Wall Mount Bike Hangers Brooklyn, Wall Mount Bike Brackets Brooklyn, Wall Mount Vertical Bike Brackets Brooklyn, Areas served in Brooklyn by zip code 11212, 11213, 11216, 11233,11238,11209,11214,11228,11219,11230,11234,11236,11239,11223,11236,11239,11223,11234,11229,11235,11201,11205,11215,11217,11231,11203,11210,11225,11226.