Wall Mount Bike Brackets Asbury Park. Space saving, Easy to use. Free on site layouts, Generates revenue. Ideal for Asbury's Condo Building, Apartments, Office Buildings, Law Enforcement Bike Patrols and parking garages. Designed to allow bikes to be stored just 12″ apart. Stocked locally. Deliveries are immediate.
Made with all welded steel with a durable powder coat finish. Each #42488 wall mount bike brackets comes with extra security. We attach a 5′ long cushion coated security cable to our brackets that can be wrapped around the bike frame, both rims and secured with the bike owners lock. Asbury Parks increase of residential buildings and the rise in popularity has increased the need for space efficient, Easy to use bike storage. #42488 provides space saving, Long term, Easy to use bike room solutions.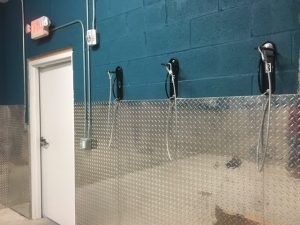 #42488 Wall Mount Bike Brackets generate revenue in Asbury Park bike rooms. Developers, Landlords and facilities mangers now charge a monthly rental fee for bike storage averaging $10.00 per month. A bike room with 50 bikes would generate $6000.00 per year in maintenance free revenue.
Our Bike Techs provide miles of Bike Room set up tips along with Complimentary Bike Room Layouts. If the bike room walls are sheet rock, We recommend adding plywood supports over the gypsum, 2″ thick x 20″ high. Along the bike walls for added anchoring support. Then paint the bike walls and supports with an eggshell finish for easy removal of dirt marks with a wet cloth.
Built to last designed for indoor or outdoor use. #42488 wall mount bike brackets come with a lifetime warranty. If your creating a new bike room or would like to have a complimentary bike room layout that will increase bike capacity by up to 50%. Eliminating congested bike rooms and waiting lists.
Contact us for immediate assistance. Feel free to use our Complimentary Layout Form, or call us P(888)963-5355 or email Sales@BikeRoomSolutions.com
Wall Mount Bike Brackets Asbury Park, Wall Mounted Bike Brackets Asbury Park, Bike hangers Asbury Park, Bike Hooks Aabury Park, Bike Racks Asbury Park NJ, Wall Mount Vertical Bike Racks Asbury Park. Wall Mount Bike brackets daily deliveries to Asbury Park, Ocean Grove, Neptune, Toms River, Eatontown, Red Bank, Middletown NJ, Tinton Falls, Howell Twp, Wall Twp, and all of New Jersey.