Wall Mount Bike Brackets Daytona Beach. Space Bikes just 12″ apart. Easy to use. Lockable, Complimentary Layouts, Lifetime Warranty, Generates Revenue, Free Delivery. Wall Mount Bike Brackets Daytona Beach #42488 designed for space efficient bike storage for residential buildings, Offices, Hotels, Gyms, Parking Garages. Designed for indoor and outdoor use. Widely used in Florida. Manufactured with all welded steel with powder coat, shiny black finish, cushion. Attached to each #42488 bike bracket is a 5 foot long cushion coated security cable that can be wrapped around the bike frame, both rims and secured with the bike owners lock.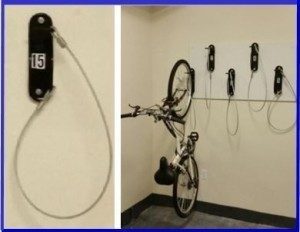 Stocked Locally, Wall Mount Bike Brackets Daytona Beach provides Complimentary Bike Room Layouts and miles of bike room set up suggestions. if the bike room walls are sheet rock, Our Bike Room Specialists suggest putting plywood supports over the sheet rock, 22″ high x 2″ thick. Prior to installing the bike brackets, Paint the walls in a matte or semi gloss finish for easy removal of dirt marks with a wet cloth. When space is tight the bike brackets can be set on 12″ centers, We alternate the heights of each bracket 64″ & 74″ so the handlebars don' t touch other bikes.

Typically #42488 Wall mount bike brackets will increase existing bike room capacity by 50%. If your current bike room is congested feel free to fill out Our Complimentary Bike Room Layout Form. We will reconfigure the bike room layout to help create a space efficient, User Friendly bike room.
#42488 Wall Mount Bike Brackets Generate Revenue. Today most developers, landlords and condo boards charge a monthly rental fee for onsite bike storage averaging $10.00 to $15.00 per month. A bike room with 60 bikes spaces being rented out would generate $7,200.00 per year in revenue. Maintenance free. We do recommend charging even a minimal rental fee monthly so that only active bike users use the room. This will help the room from becoming cluttered with unused bikes.
BikeRoomSolutions.com also stocks tenant storage cages locally in single tier – walkin and double tier stacked. Manufactured with 4ga galvanized steel with all welded grid openings. Each cage door has a full height anti theft lock bar and welded hasp for padlocks. Our team provides complimentary Tenant Storage Room Layouts. Contact us to day for immediate assistance. Sales@BikeRoomSolutions.com or P(888) 963-5355.
Wall Mount Bike Brackets Daytona Beach, Wall Mount Vertical Bike Racks Daytona Beach, Bike Racks Daytona Beach, Bike Brackets Daytona Beach, Tenant Storage Cages Daytona Beach, Wall Mount Bike Brackets Florida, Tenant Storage Cages Florida. Wall Mount Bike Brackets delivered daily to Daytona Beach, Port Orange, Ormond Beach, New Smyrna, Deland, Deltona, Orlando, Fort Lauderdale, St Augustine, Holly Hill. all of Florida.