Wall Mount Bike Brackets Hialeah FL. Specified by Architects, Developers, General Contractor for its space saving design, Ease of use, Locking capabilities, 5 year warranty and cost effective price. #42488 offers many benefits for high rise residential buildings and garages. Designed to allow bikes to be spaced just 12″ apart when space is tight. Rated for indoor and outdoor bike storage.
Manufactured with cushion coated powder cost steel in a medium gloss black finish. #42488 allows bikes to be secured. Attached to each bracket is a five foot long, Cushion coated security cable that can be wrapped around the bike frame, both rims and secured with the bike owners lock. Bike Room Solutions ships daily from our Port Orange FL and New Jersey facilities nationwide. Our bike techs provide Complimentary Bike Room Layouts from our Florida and NJ offices. With the layout comes numerous bike room set up suggestions that will create a long term, self managed, maintenance free bike room. If the bike room walls are sheet rock or brick we recommend adding plywood supports over the bike walls for secure anchoring. Prior to installing the bike brackets consider painting the walls in a matte or semigloss finish for easy removal of dirt marts with a wet cloth.  Feel free to us the form in the link or email us for immediate response, M-F 7AM to 5PM, Sat. 7A-4PM. Sales@BikeRoomSolutions.com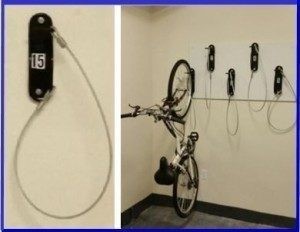 If your building already has a bike room that has become congested, Contact us. #42488 bike brackets typically increase the bike room capacity up to 50%, While keeping the floor totally clear for safe passage.
Both our Florida and NJ warehouses stock tenant storage cages in single tier – full height and double tier – stacked doors. Manufactured with rust resistant galvanized, gray and black in 48 standard sizes. Our techs provide complimentary tenant storage room and bike room layouts daily. P(888) 963-5355
Wall Mount Bike Brackets delivered free to Hialeah, Pembroke Pines, Aventura, Bal Harbor, Key Biscayne, Brickell, Doral, Palmetton Bay, Coral Way, Miami Beach, Tampa, Florida.