Wall Mount Bike Racks New Rochelle.  Attract new residents to your building with Bike Room Solutions Easy to use, Space saving wall mount bike brackets. Built to last, Free bike room layouts, Locking bike storage, Free deliveries.  Biking popularity continues to boom since the pandemic arrived. Naturally people would rather bike than other modes of transportation.  Manufactured with cushion coated powder coat steel in a shiny black, medium gloss finish. #42488 bike brackets have been designed to allow bikes to be stored just 12″ apart when space is tight.
BikeRoomSolutions.com provides Complimentary Bike Room Layouts six days a week. Feel free to use the easy form in the link above or call us P(917) 702-5795.  With our free layout our bike techs provide several bike room set up tips to help create a long term, self managed, maintenance free bike room. If the walls are sheet rock or brick we suggest adding plywood supports over the bike walls 24″high x 2″ thick for secure anchoring.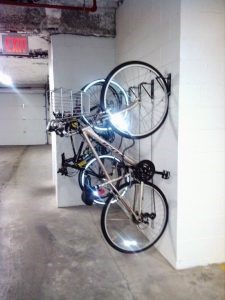 Prior to installing the bike brackets our bike techs or your staff should paint the bike walls and plywood supports in a matte or semi gloss finish for easy removal of dirt marks with a wet cloth.
If the bike brackets are installed on 12″ centers we alternate the heights of the brackets 65″ & 74″ from the cushioned bike hook to the floor. Wall Mount Bike Racks New Rochelle generate good revenue and attract potential residents. Most residential and commercial buildings charge a monthly rental fee to use the bike room ranging from $10.00 to $15.00 per month in Westchester County.  A bike room with 40 bike spaces renting out for $15.00 per month will generate $7,200.00 oer year in revenue. The ROI averages just 6-7 months.
Bike Room Solutions of New York is a Manufacture and Master Distributor of Wall Mount Bike Racks and Storage Cages.
Proudly serving NY, NJ and Philadelphia,  Our Team proves space saving, Code compliant layouts daily. Contact us today for immediate assistance. Sales@BikeRoomSolutions.com
Wall Mount Bike Racks New Rochelle, Wall Mount Bike Brackets New Rochelle, Wall Mount Bike Racks Scarsdale, Tenant Storage Cages New Rochelle, Tenant Storage Cages Scarsdale. Wall Mount Bike Racks delivered daily to New Rochelle, Scarsdale, Yonkers, White Plains, Rye.