Wall Mount Bike Racks Oregon.  Space efficient, Easy to use, Locking wall mount bike brackets designed for residential buildings, Office and parking garages.  #42488 Wall mount bike racks have been designed to allow bikes to be stored on 12″ centers when space is tight. Manufactured with cushion coated powder coat steel in a powder coat, Medium gloss, shiny black finish.
Our Bike Techs provide Complimentary Bike Room Layouts. Feel free to use the quick form in the link above or contact us for immediate assistance. With the layout we provide bike room set up tips that will help create a self managed, Maintenance free bike room while having the bike room clear for safe passage.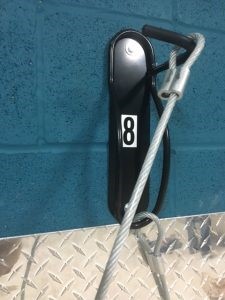 If the bike room walls are sheet rock we suggest adding plywood supports over the bike walls 2″ thick x 24″ high for secure anchoring. Prior to installing #42488 wall mount bike racks consider painting the walls in a matte or semi gloss finish for easy removal of dirt marks with a wet  cloth.  If the bike room is small #42488 bike brackets can be installed on 12″ centers. We alternate the heights of the brackets 64″ and 74″ from the cushioned bike hook to the floor so the handlebars do not touch other bikes. If the room is spacious install the bike brackets on 24″ centers all at 64″ from the cushioned bike hook to the floor. Then if additional bike brackets are needed they can be installed in between the existing bike brackets, 74″ high from the cushioned bike hook to the floor.

Wall Mount Bike Racks in Oregon generate revenue. Today most developers, landlords, Condo buildings and apartments charge a monthly rental fee to use the bike room. Rental rate range from $10.00 to $15.00 per month. A bike room renting our 60 bike spaces will generate $7,200.00 per year in revenue. The bike room will pay for itself in 7-8 months.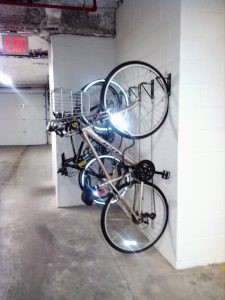 Contact us today for immediate assistance our office is open six days a week. Sales@BikeRoomSolutions.com
Wall Mount Bike Racks delivered Free to  Portland Oregon, Salem OR, Eugene OR, Hillsboro OR,  Grisham OR. Bend OR, Beaverton OR, Medford OR, All of Oregon.