Wall Mount Bike Racks Staten Island. Designed to allow bikes to be spaced 12″ when needed. Easy to use, Locking, Free Layouts, Professional Installations, Free Delivery. #42488 Wall Mount Bike Racks have been designed for today's Bike Room needs. Widely used in the Five Boroughs. Manufactured with Cushion coated steel in a powder coat, Shiny black finish. Bikes can be stored on 12″ centers when space is tight. We Alternate the heights of the brackets 64″ and 74″ so the handlebars don't touch other bikes. When the bike room is spacious our Bike Techs suggest initially spacing the bike brackets on 24″ centers all at 64″ high from the cushioned bike hook to the floor. Our Bike Tech provide layouts and pro installations.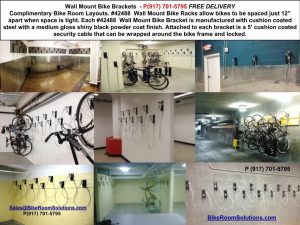 #42488 Wall Mount Bike Brackets are widely used in Condo, Co-ops, apartment buildings, offices, and Parking Garages. Our Bike Techs provide code compliant Complimentary Bike Room Layoutseither online or onsite. Feel free to use the handy link above or contact us for immediate assistance. If your building already has a bike room that has become over crowded. #42488 can increase the bike room capacity by up to 50% over floor racks. Call us we will reconfigure the layout at no charge for you. P(917) 701-5795.
Wall Mount Bike Racks Staten Island generate good revenue. Today most developers, landlords, condo boards charge a monthly rental fee to use the bike room ranging from $10.00 to $25.00 per month. A bike room with 50 bike spaces renting our for $15.00 per month will generate $9,000.00 per year in revenue. The ROI (return on investment) averages 6-7 months.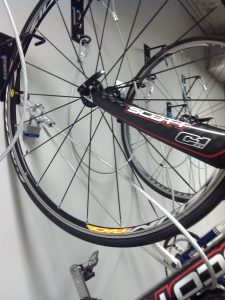 Along with the free bike room layout we include several bike room set up tips to help create a space saving, easy to use bike room that will be self managed and maintenance free. If the bike walls are sheet rock we suggest adding plywood supports over the bike walls 22″ high x 2″ thick for secure anchoring. Our Techs can install or we can show your staff at no charge.
BikeRoomSolutions also stocks Tenant Storage Cages in our 109,000SF Staten Island Distribution Center. Let us know if we can provide a complimentary tenant storage cage layout and quote.
Wall Mount Bike Racks Staten Island, Wall Mount Bike Brackets Staten Island, Tenant Storage Cages Staten Island, Wall Mount Bike Racks delivered free to Staten Island, Brooklyn, Queens NY, Bronx, New York City.