Wall Mount Bike Racks Tampa FL.  Free Delivery, Stocked locally, Space bikes 12″ apart, Locking, Free Bike Room layouts. Generates good revenue. #42488 Wall Mount Bike Racks designed to allow bikes to be stored just 12″ apart when space is tight. Call now Phone (888) 963-5355 or Email us Sales@BikeRoomSolutions.com
Manufactured with cushion coated steel with a powder coat, medium gloss, Shiny black finish. #42488 is also lockable, Attached to each bike bracket is a five foot cushion coated security cable that can be wrapped around the bike frame and both rims, Then secured with the bike owners lock. #42488 is extremely popular with Architects, Developers, Landlords, and Condo Boards. Our bike techs located in our Daytona Beach facility provide Complimentary Bike Room Layouts. With the layout we will provide bike room set up tips to help design a self managed, Maintenance free bike room.
If the bike room is small our Florida office recommends spacing #42488 bike brackets on 12″ centers, Alternating the bike brackets 64″ & 74″ from the cushioned bike hook to the floor so that the handlebars don't touch other bikes. Initially if the bike room is spacious center the bike brackets on 24″ centers at 74″ from the cushioned bike hook to the floor. The when more bikes need to be stored, Install #42488 bike brackets in between the existing bike brackets at 64″ high from the cushioned bike hook. If the bike walls are sheet rock, we recommend adding plywood supports over the bike walls 22″ high x 2″ thick.  Prior to installing the bike racks consider painting both the bike walls and plywood supports in a matte or semi gloss finish. Additionally for an awesome look add aluminum diamond plate below the bike brackets. See our pics for appealing design ideas.  Our Florida office is open six days a week. Monday through Friday 7AM to 5PM, Saturdays 7AM to 4PM. Contact us for immediate assistance. Sales@BikeRoomSolutions.com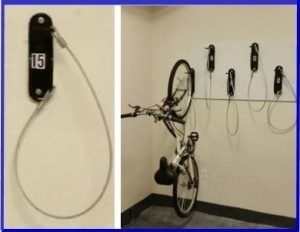 Wall Mount Bike Racks Tampa Fl generate excellent revenue. Most buildings charge a monthly rental fee for onsite bike storage today. IE: a bike room with 50 bike spaces renting out for $15.00 per month will generate $9,000.00 per year. The bike room will pay for itself in 7-8 months.  Call today for fast service Phone (888) 963-5355.
Wall Mount Bike Racks Tampa Fl, Wall Mount Bike Brackets Tampa Florida, Bike Hangers Tampa, Bike Racks Tampa, Wall Mount Bike Racks Pembroke Pines, Wall Mount Bike Racks Hollywood FL, Wall Mount Bike Racks Miramar, Wall Mount Bike Racks Gainesville. Wall Mount Bike Racks Coral Springs. Wall Mount Bike Racks delivered free to Tampa, Pompano Beach, Clearwater, Palm Beach, all of Florida.
Wall Mount Bike Racks Tampa Florida 33647, 33614, 33617, 33612, 33610, 33613, 33618, 33619, 22624.