Wall Mount Hanging Bike Brackets NYC.  New York City's most popular Wall Mount Bike Bracket. Designed to space efficient and bike owner friendly. Bikes can be spaced just 12″ apart. Lockable,  Built to last, Lifetime Warranty. Free delivery, Complimentary Bike Room Layouts.  Stocked in New York City. Manufactured with cushion coated all welded steel with a shiny black powder coat finish.  Bike Rooms no longer have to be congested and treacherous
to use. #42488 Wall Mount Bike Brackets typically increases existing bike room storage space by 50% while keeping the bike room floor totally clear.  Widely specified by Architects, Developers, Contractors nationwide. Rated for long term, extremely active bike rooms. Our Bike Room Techs provide free bike room layouts.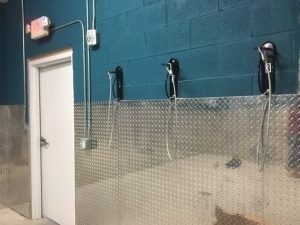 Wall Mount Hanging Bike Brackets NYC can be used indoors or outside. If setting up a bike room and the bike room walls are sheet rock, We recommend adding plywood supports over the bike walls 22″ high x 2″ thick. Prior to installing #42488 wall mount bike brackets consider painting the bike walls and plywood supports in a matt or semi gloss finish for easy removal of dirt marks with a wet cloth. When installing the bike brackets we space them on 12″ centers and alternate the heights of the brackets 64″ and 74″ from the floor to the cushioned bike hook. This layout allows for easy use by the bike owners and prevents the handlebars from touching other bikes. Our team provides complimentary bike room layouts six days a week, Either on line or on site.  #42488 Wall mount bike brackets are widely used in New York City, Brooklyn, Queens, Bronx, Staten Island and New Jersey. Chances are we have set up a bike room in your neighborhood, Ask to see them.

#42488 Wall Mount Bike Brackets generate revenue. Today  most developers, landlords, co-op and condo boards charge a monthly rental fee for bike room storage averaging $10.00 to $15.00 per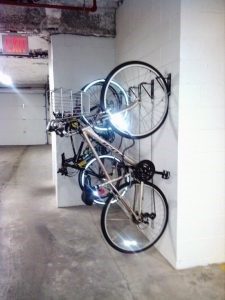 month. A bike room with 60 bike spaces being rented out for $15.00 per month will generate $10,800.00 per year revenue stream. The bike room typically pays for itself in 6-7 months. Combined with #42488 lifetime warranty its a great investment.
Contact us today for immediate assistance. Sales@BikeRoomSolutions.com
Wall Mount Hanging Bike Brackets NYC, Wall Mount Bike Brackets, Wall Mount Bike Racks, Wall Mount Vertical Bike Racks, Daily deliveries to New York City, Brooklyn, Queens NY, Bronx, Staten Island, Long Island, New York.