Wall Mounted Bike Brackets Massachusetts.  Designed to allow bikes to be stored just 12″ apart when needed.  Easy to use, Locking, Complimentary Layouts, Cost effective,  Built to last 5 year warranty.  Free delivery. Manufactured with cushion coated powder coat steel in a shiny black, Medium gloss finish. Attached to each #42488 bike bracket is a five foot long cushion coated security cable that can be wrapped around the bike frame, both rims and secured with the bike owners lock. Our Bike Techs provide Complimentary Layouts, Feel free to fill out the form in the above link or contact us for immediate assistance.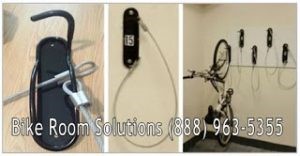 When the bike room is small our bike techs recommend spacing the bike brackets on 12″ centers with alternating heights of 64″ and 74″ from the cushioned bike hook to the floor. This prevents handlebars from touching the bikes next to it.  If the bike room is large, Install all #42488 bike brackets on 24″ centers at 74″ high from the cushioned bike hook to the floor. Then when additional bike brackets are needed install them in between the existing bike brackets at 64″ from the cushioned bike hook to the floor.
If the bike walls are sheet rock, We suggest covering the bike walls with plywood blocking for increased anchoring support. 24″ high x 2″ thick,  Before installing the bike brackets consider painting the walls in a matte or semi gloss finish for easy removal of dirt marks with a wet cloth.
Bike Rooms in Massachusetts generate excellent revenue. Today most developers, landlords, condo boards, apartment complexes, garages and buildings charge a monthly rental fee to use the bike room averaging $10.00 to $15.00 per month.  A bike room with 60 bike owners paying $10.00 per month will generate $7,200.00 per year in revenue. The bike room will pay for itself in 7-8 months on average.  Contact us today for immediate assistance. Sales@BikeRoomSolutions.com or P(888) 963-5355
Wall Mounted Bike Brackets Massachusetts, Wall Mounted Bike Racks  Massachusetts, Wall Mounted Bike Brackets Boston, Commercial Bike Racks Massachusetts, Bike hangers Massachusetts. Wall Mount bike brackets delivered  Free to Boston, Worcester, Cambridge, Lowell, New Bedford, Brockton, Quincy, Lynn, Fall River, all of Massachusetts.