Wall Mounted Bike Brackets. Space saving, Easy to use. Free Layouts, Lifetime Warranty. Center bikes just 12″ apart.   Generates Revenue. Free delivery.  Bike Rooms today have become a much sought after amenity in most NYC buildings. Space has always been a challenge. BikeRoomSolutions.com bike room designs are created with the bike owner in mind. Easy to maneuver floor space and easy to use bike brackets with the least amount of effort.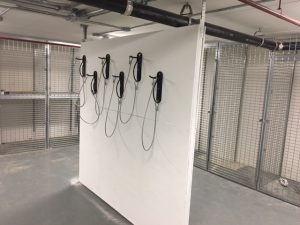 Our bike team is passionate about design, quality, cost and user friendly bike rooms. #42488 was designed to meet NYC needs has quickly become New York City's most popular bike bracket.
Designed to allow bikes to be stored just 12″ apart. Made with all welded steel with a powder coat finish.  Each bike bracket comes with a 5′ long cushion coated security cable that can be looped around the bike frame, both rims and secured with the bike owners lock.   BikeRoomSolutions is based in NYC our team provides complimentary bike room layouts with long term growth in mind. if your about to create a new bike room or need to reconfigure a existing congested bike room, Contact us. We will provide a space saving, Easy to use bike room layout complimentary.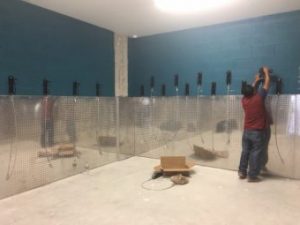 If the walls are sheet rock we suggest adding 2″ thick  plywood supports behind the bike brackets for secure anchoring.  As shown here . Our Bike team will provide dozens of bike room suggestions at no charge.
Bike Rooms today Generate Revenue. Developers, Landlords and Boards typically charge a monthly rental fee for bike storage ranging from $10.00 to $25.00 per month. If a bike room stores 40 bike renting out space for $15.00 per month the bike room would generate $7,200.00 per year in revenue. They bike brackets would pay for themselves (ROI) in less than 6 months.
Contact us today for immediate assistance.  P(917)837-0032
Sales@BikeRoomSolutions.com  
Wall Mounted Bike Brackets, Wall Mount Bike Brackets NYC, Wall Mount Bike Brackets New York City. Wall Mounted Bike Brackets NYC, Wall Mount Bike Brackets New York City. Daily deliveries too NYC, Brooklyn, Long Island City, Astoria, Jackson Heights, Bronx, Queens NY, Woodside, Park Slope, Prospect Park, Sunset Park, Bay Ridge, Brighton Beach,