Wall Mounted Bike Racks Florida. Space saving, Easy to use, Locking, Complimentary Bike Room Layouts, Generates Revenue, Free Delivery. Designed to allow bikes to be stored just 12″ apart when space is tight. Manufactured with cushion coated powder coat steel in a medium gloss shiny black finish. Rated for indoor and outdoor use. Our Daytona Beach facility provides Complimentary Bike Room Layouts and bike room set up tips to help create a self managed – maintenance free bike room. If the bike room walls are sheet rock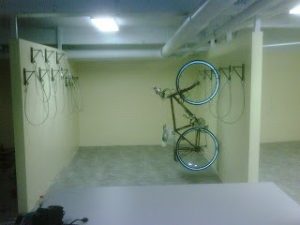 our Florida office suggests adding plywood supports over the bike walls 22″ high x 2″ thick for secure anchoring. Prior to installing #42488 bike brackets consider painting the walls in a matte or semi gloss finish for easy removal of dirt marks with a wet cloth.  #42488 bike brackets can be installed on 12″ centers, We alternate the heights of the bike brackets 64″ & 74″ so the handlebars don't touch other bikes. When initially setting up the bike room and their is plenty of space install the bike brackets on 24″ centers at 74″ high from the cushioned bike hook to the floor. Then when more bike brackets are needed install them in between the previously installed brackets at 64″ high from the cushioned bike hook to the floor.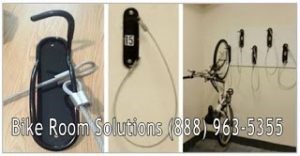 Wall Mounted Bike Racks Florida generate good revenue. Today most developers, landlords, condo boards and parking garages in the Sunshine State charge a monthly rental rate for bike room storage ranging from $10.00 to $15.00 per month. Bike Room renting out space at $15.00 per month for 60 bikes would generate $10,800.00 per year in revenue. The bike room typically pays for itself in 7-8 months, (ROI).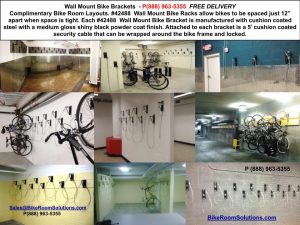 About BikeRoomSolutions.com our company is a manufacturer and wholesale of Bike Racks and Tenant Storage Cages. Our Daytona Beach office and warehouse and New York City facility is open six days a week. Our Bike Techs take great pride in providing space saving, Easy to use bike storage solutions. Contact us today for immediate assistance. Sales@BikeRoomSolutions.com
Wall Mounted Bike Racks Florida, Wall Mount Bike Brackets Florida, Bike Hangers Florida, Bike Racks Florida, Bike Rack Manufacturers, Wall Mount Bike Racks delivered daily to Miami, Tampa St Petersburg, Orlando, Jacksonville, Sarasota Bradenton, Cape Coral – Fort Meyers, Palem Bay – Melbourne, Port St Lucie, Port Orange, Daytona Beach, Palm Coast, Penscola, Tallahassee, Winter Haven, Fort Walton, Tampa, Florida.