Bike Hooks NJ. Locking, Vertical, Space saving bike hooks. Stocked in New Jersey. Complimentary Bike Room Layouts, Professional Installations, Free delivery. With the industries only 5 year warranty. Built to last, Manufactured with cushion coated steel with a powder coat, Black, Medium gloss finish. Ideal for today's bike rooms in Condo buildings, Offices, Parking garages or anywhere maintenance free space saving bike storage is needed.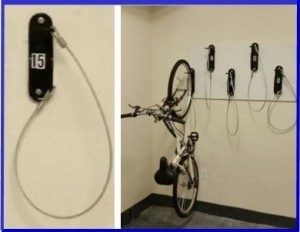 Wall Mount Bike Hooks NJ. Continued strong growth of bike usage has created parking jams in bike storage rooms. Bike Room Solutions wall mount bike brackets have helped alleviate crowded bike rooms nationwide. Our #42488 wall mount bike brackets allow bikes to be spaced just 12″ apart. Creating user friendly, space efficient bike rooms, Leaving no bikes on the floor.
Our Bike Techs provide Complimentary Bike Room Layouts six days a week. Please use the layout form in the link above or email us for immediate assistance. Along with our layout we provide several tips on how to provide long term bike room solutions that help create a maintenance free, Self managed bike room. Vertical Bike Hooks increase storage capacity by over 50% compared to floor racks. While keeping the floor totally clear. #42488 bike hooks allow bikes to be securely locked in place. attached to each bike hook is a five foot long, Cushion coated security cable that can be wrapped around the bike frame and both rims, Then locked in place.
Bike Hooks NJ generate revenue. Today most developers, Landlords, Apartments and Condo boards charge a monthly rental fee to use the bike room. Rental rates range from $10.00 to $15.00 per month. Bike rooms renting out 55 bikes spots at $10.00 each will generate $6,600.00 in revenue per year. The bike room typically pays for itself in 6-7 months. We do recommend charging something for bike storage so the bike room does not get cluttered with unused bikes.
Our 109,000 square foot New Jersey facility also stocks Tenant Storage cagesin 48 standard sizes in single tier and double tier – stacked doors. Our team provides Complimentary Tenant Storage Cage and Bike Room Layouts daily. Contact us for immediate assistance. Email us at Sales@BikeRoomSolutions.com
Bike Hooks NJ, Wall Mount Bike Racks NJ, Wall Mounted Vertical Bike Racks NJ, Tenant Storage Cages NJ, Bike Hooks delivered free to Newark, Jersey City, Elizabeth, Rahway, Trenton, Morristown, Old Bridge, Atlantic City, all of New Jersey.