Bike Storage NYC. Space Saving, Easy to use Bike Storage. Lockable. Bike Storage in NYC has been a challenge for most residential buildings in the five boroughs. Past generations of Bike Storage took up too much space. The bike room quickly became congested.
Today's generation of Bike Storage has evolved to #42488 Wall Mount Bike Brackets. Designed with the bike owner in mind, while being space efficient. BikeRoomSolutions,com based in Manhattan provides Complimentary Bike Room Layouts six days a week.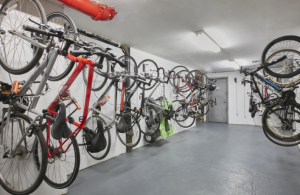 Bike Rooms in NYC using #42488 can be found in hundreds of residential buildings, Offices, Hotels, Parking Garages, Everywhere space saving Bike Storage is needed in the 5 Boroughs.
Our Complimentary Bike Room Layout will help create a user friendly, Code compliant, Space saving bike room,  While keeping the floors totally clear.  Manufactured with all welded, powder coated shiny black finish, Cushion coated. Attached to each bracket is a 5′ long cushion coated security cable, That can be wrapped around the bike frame, both rims and secured with the bike owners lock.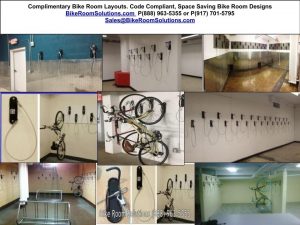 Bike Rooms with #42488 Bike Brackets create an attractive amenity to the building and secure bike storage for the residents. Along with the complimentary bike room layout our team provides long term bike room set up tips that will create an self managed bike room.
If the bike room walls are sheet rock, Our bike room specialists suggest adding plywood supports onto the bike walls as shown in the picture. 22″ high x 2″ thick. If you like, prior to installing the bike brackets our installation teams will paint the walls for you in a matte or semi gloss finish for easy removal of dirt marks with a wet cloth.
Stocked in New York City our office is open Monday through Friday 7AM – 5PM and Saturdays 7AM – 2PM. Contact us now for immediate assistance. Sales@BikeRoomSolutions.com or P(917)701-5795.
Bike Storage NYC, Bike Storage Brooklyn, Bike Storage Queens NY, Bike Storage Bronx, Bike Storage Staten Island, Bike Storage Long Island City, Wall Mount Bike Brackets NYC, Wall Mount Vertical Bike Racks, Bike Hangers, Wall Mount Bike Brackets delivered daily to NYC, Brooklyn, Queens, Bronx, Staten Island, Long Island.