Wall Mount Bike Racks West Village. Christopher St NYC. Proudly serving NYC since 1909. Manufacturer and Master stocking distributor or Bike Racks and Tenant Storage Cages.  BikeRoomSolutions office is located in Manhattan's West Village. #42488 Wall Mount Bike Racks have been designed for the needs of today bike rooms in residential and office buildings. Built to last, Designed to allow bikes to be spaced on 12″ centers when space is tight. Easy to use, Minimal lifting required. #42488 also allows bikes to be locked. Attached to each of our bike brackets is a five foot long cushion coated security cage that can be wrapped around the bike frame and both rims, Then secured with the bike owners lock.
Our Bike Techs provide Complimentary Bike Room Layouts daily. Feel free to use the form in the link above or email us for immediate assistance. Sales@BikeRoomSolutions.com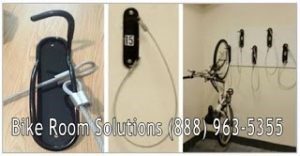 Along with the layout our team will provide bike room set up tips to help create a space efficient, User friendly bike room.  If the rooms walls are sheet rock, We suggest adding plywood supports over the bike walls for secure anchoring. 2″ thick x 22′ high. Prior to installing our bike team or your staff can paint the bike walls and plywood supports in a matte or semi gloss finish for easy removal of dirt marks with a wet cloth. When the room is small we suggest spacing the bike brackets on 12″ centers, We alternate the heights of the brackets 65″ and 74″ from the cushioned bike hook to the floor so handlebars don't touch.  When the room is spacious our design team suggests spacing #42488 bike brackets on 24′ centers all 64″ from the cushioned bike hook to the floor. The when more bike storage is needed add the new bike brackets in between the previously installed brackets 74″ from the cushioned bike hook to the floor.
Also stocked at our  New York City is Tenant Storage Cages. Manufactured with 4ga welded wire in Rust Resistant Galvanized. Each door has a full height anti-theft lock bar and welded hasp for padlocks. Stocked in Single Tier (full height storage cages) and Double Tier (Stacked doors) Both are very popular in the 5 Boroughs.  Our team also  provides provides complimentary tenant storage cage layouts daily. Contact us today for immediate assistance. Phone (917) 701-5795.
Wall Mount Bike Racks West Village, Wall Mount Bike Racks NYC, Wall Mount Bike Brackets NYC 10014, Tenant Storage Cages NYC, Wall Mount Bike Brackets delivered free to West Village 10014, SOHO 10012, Tribeca 10013, Times Square 10036, Midtown West 10019, Upper Eastside 10021, 10022, 10065, 10075, 10198, Union Square 10003, Lower Eastside 10002, Trade Center area 10048,  UWS 10023, 10024, 10025, All of NYC, Brooklyn, Queens, Bronx, Staten Island.