Wall Mounted Bike Brackets NYC. Space Saving, Easy to use. Generates Good Revenue, Free layouts, Lifetime Warranty. Lockable, Wall Mounted bike brackets in NYC are today's solution for congested bike rooms. Designed to allow bikes to be stored just 12″ apart. Made with all welded steel with a shiny black powder coat finish. Based in New York City BikeRoomSolutions provides long term solutions. #42488 Wall Mount Bike Brackets recaptures wasted space, Keeps the bike room floor totally clear and is backed with the industries only lifetime warranty.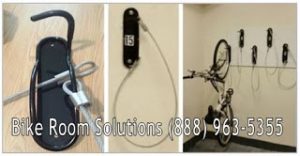 Our Bike Room Team provides complimentary on site layouts, Professional installations at the lowest overall cost. Our team provides miles of bike room tips that will keep the bike room maintenance free and easy to use. If the bike room walls are sheet rock, We recommend adding plywood supports over the gypsum. 2″ thick x 20″ high across all bike walls.
Our techs will then paint the walls with an eggshell finish for easy removal of dirt marks with a wet cloth. #42488 also increase security. We attach a 5′ long, Cushion coated security cable to each bracket that can be wrapped around the bike frame, Both rims and secured with the bike owners lock. If a bad guy wants to steal a bike they will. Our security cables make it harder for them. No bike bracket manufacture can provide a bike bracket that is 100% guaranteed against theft. However our bike techs will review with you how to limit the opportunity of theft.
Wall Mount Bike Brackets Generate Revenue. Most residential buildings, offices and parking garages charge a monthly rental fee for bike room storage averaging from $10.00 to #25.00 per month. A bike room renting out space for 50 bikes at just $10.00 per month with generate $6,000.00 per year in maintenance free revenue. Bike Rooms typically pay for themselves in just 4-5 months. Contact us today for immediate assistance. our office is open Monday through Friday 7AM to 5PM and Saturdays 8-1. Sales@BikeRoomSolutions.com or P(917) 701-5795. Feel free to use our Complimentary Bike Room Layout form.

Wall Mounted Bike Brackets NYC, Wall Mount Bike Brackets NYC, Bike Hangers NYC, Bike Brackets NYC, Bike Hooks NYC, Wall mount vertical bike racks NYC, Bike Storage NYC, Bicycle Racks NYC, Wall Mounted Bike Brackets Brooklyn, Wall Mount Bike Brackets Brooklyn, Wall Mounted Bike Brackets Long Island City, Wall Mounted Bike Brackets Queens, Bike Hooks Queens. Bike Room Designs NYC, Wall Mounted Bike Brackets daily deliveries New York City, Brooklyn, Queens, Bronx, Staten Island.