Bike Storage NYC Apartments. Discover the most space efficient way to store bikes in NYC apartment buildings. Thankfully 2021 is near. Increased biking popularity due to NYC's hundreds of miles of bike lanes and the desire for many to bike during the pandemic has increased the need for space efficient, Easy to use, Locking Bike Storage.
As biking ownership increased the past generations of bike storage were no longer adequate to handle the volume of bikes. Floor bike racks take large amounts of square footage, Creating congested, unmanageable bike rooms that created a potentially hazardous challenge just trying to retrieve your bike.
Bike Storage manufactures responded to the needs of today's urban bike high density bike rooms. BikeRoomSolutions based in NYC saw first hand the need to convert bike rooms from floor bike racks to wall mount vertical bike brackets. Initially most of our business in the 90's was converting bike rooms from floor racks to wall mounted vertical bike brackets. The transition tripled bike room capacities. Bike owners found the vertical bike brackets were easy to use. #42488 Bike Brackets were designed to allow bike to be locked onto the bike bracket and going vertical bike storage allowed the bike room floor to be totally clear. Our bike techs designed #42488 so that bikes can be stored on 12″ centers when space was tight. Manufactured for long term use with the industries only 5 year warranty. #42488 became the choice of many AIA's, Developers, Landlords, Co-op / Condo boards, Apartment buildings and Parking Garages. In a short time over 14,000 were installed nationwide and still being used daily.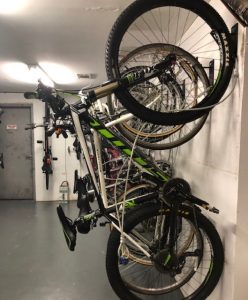 Bike Room Solutions provides Complimentary Bike Room Layoutsdaily. Either online or onsite. Feel free to use the quick form in the link above or email us for immediate assistance. With the layout our team will provide numerous bike room set up tips to help create a biker friendly bike room with room to grow.
Should the bike room be an amenity or a revenue generator? in today's Covid-19 environment many urban residential buildings are competing for new residents. Amenities like free bike storage and tenant storage cages are key to attracting new tenants. However many buildings are facing enormous debt with unpaid rents and commercial tenants either leaving the street level storefronts or they too are unable to keep up with rent payments. Charging a monthly fee for bike storage and tenant storage cages is a good way to generate revenue and reduce debt. Additionally it is a good idea to charge something for bike storage to discourage bikes being stored in the bike room and no longer used. Creating congested bike rooms and waiting lists to use the bike room. Our Bike techs are available 6 days a week. Contact us today for immediate assistance Sales@BikeRoomSolutions.com or P(917) 701-5795
Wall Mount Bike Brackets delivered free to NYC, Brooklyn, Queens NY, Bronx, Staten Island, New Jersey.