High Density Bike Racks NYC. Store bikes just 12″ apart when space is tight. Easy to use, Locking, Complimentary Bike Room Layouts. Generates good revenue, Free delivery. Biking popularity in New York City has never been higher. Residential bike rooms can become congested and unmanageable if not set up to today's bike room needs. #42488 Wall Mount Bike Racks have been designed to eliminate waiting lists for bike rooms. Bikes can be centered every 12″. We alternate the heights of the bike brackets 64″ & 74″ from the cushioned bike hook to the floor. Attached to each #42488 bike bracket is a five foot long cushion coated security cable that can be wrapped around the bike frame, both rims, Then secured with the bike owners lock.
Our Bike Techs provide Code compliant Complimentary Bike Room Layoutsdaily in NYC, Brooklyn, Queens, Bronx and Staten Island either online or onsite. Feel free to use the online layout form in the link above or contact us for immediate assistance.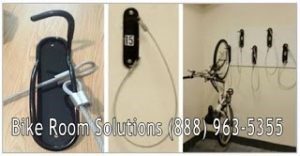 Converting existing bike rooms from floor bike racks to #42488 wall mount bike brackets typically increases existing bike room storage space by 50%. While keeping the bike room floor totally clear for easy pickups and returns of bicycles. If the bike room walls are sheet rock our Bike Techs recommend adding plywood supports over the bike walls 22″ high x 2″ thick. Prior to installing the bike brackets consider painting the walls in a matte or semi gloss finish for easy removal of dirt marks with a wet cloth. Or add aluminum tread plate under the bike brackets as shown in several of our pictures.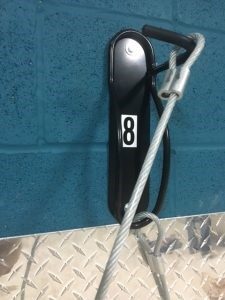 High Density Bike Racks NYC can generate excellent revenue. Today most Developers, Landlords, Co-op, Condo's and apartment buildings charge a monthly rental fee for onsite bike storage, Ranging from $10.00 to $15.00 per month. Bike Rooms renting out space for 60 bikes at $15.00 per month will generate $10,800.00 per year. The bike room will pay for itself in less than 7 months on average (ROI). Contact us today for immediate assistance. Sales@BikeRoomSolutions.com or Phone (917) 701-5795.
High Density Bike Racks NYC, Wall Mount Bike Brackets NYC, Wall Mount Vertical Bike Racks NYC, Bike hangers NYC, High density bike racks delivered free to NYC, Brooklyn, Queens, Bronx, Staten Island, Westchester, Long Island, New Jersey, New York.