Locking Bike Racks NJ. Secure, Space saving Wall Mount Bike Brackets. Designed for today's Bike Rooms. #42488 bike brackets provide Locking, Space efficient, User friendly Bike Storage.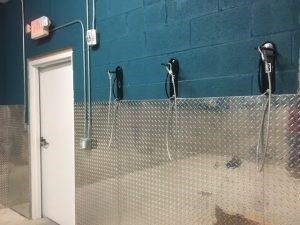 Bike storage needs has changed in today's bike rooms. The need for Locking, Space saving, Biker Friendly bike rooms is paramount. BikeRoomSolutions a manufacturer and distributor of Bike Brackets and tenant storage cages with distribution centers in New Jersey and New York City provides.
Complimentary Bike Room Layoutseither online or onsite. Feel free to use the quick form in the link above or contact us for immediate assistance, 6 days a week. Along with the bike room layouts our techs provide numerous bike room set up tips to help create a self managed, Maintenance free bike room while keeping the floor totally clear for safe use. If the bike room walls are sheet rock we suggest adding plywood supports over the bike walls for secure anchoring. The plywood should be 2″ thick x 24″ high. The bike brackets can be set on 12″ centers if space is tight. We alternate the heights of the brackets so the handlebars stay clear of other bikes. #42488 Bike Brackets have a five foot long cushion coated security cable that can be wrapped around the bike frame and both rims. Then secured with the bike owners lock.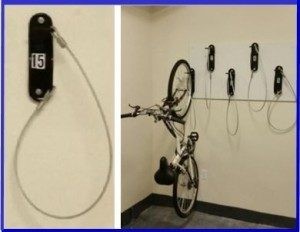 Our New Jersey facility also stocks Tenant Storage Cagesand Bike Cages, Bike Cages are ideal to enclose a section of a parking garage for bike storage. Manufactured with industrial quality welded wire in rust resistant galvanized and Powder coat black or gray. Doors can be single hinged, double hinged or sliding doors with automatic door closers. Our Techs provide Complimentary Bike Cage, Tenant Storage and Bike Room Layouts daily in NJ, NYC, Brooklyn, Bronx, Queens and Staten Island. Contact us today for immediate assistance. Email us at Sales@BikeRoomSolutions.com
Locking Bike Racks delivered free in New Jersey, New York City, Brooklyn, Queens NY, Bronx, Staten Island.