Wall Mount Vertical Bike Racks NJ. Secure, vertical bike storage. Designed for today's high density bike rooms. Our #1888 allows bikes to be spaced 12″ apart when needed. Attached to each of our wall mount vertical bike brackets is a five foot long cushion coated security cable that can be wrapped around the bike frame and both rims. Then secured with the bike owners lock.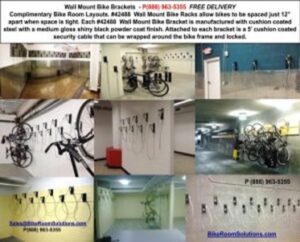 Built to last, Non scratch surface. As mentioned when needed. Bikes can be installed on 12″ centers. Our bike techs alternate the heights of the #1888 so the handlebars don't touch the neighbors bike.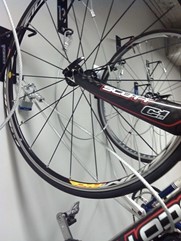 If the bike room walls are sheet rock or cinder block. They may need to be plywood blocked for secure installation. Our Bike techs can advise if needed. Our New Jersey office providesComplimentary Bike Room Layouts. Please us the quick form in the link above or contact us for immediate assistance. Sales@BikeRoomSolutions.com
If the bike room is initially spacious we suggest installing all #1888 Wall mount vertical bike brackets on 24″ centers, 64″ from the bike hook t the floor.
Wall Mount Vertical Bike Racks Generate Revenue. Today most residential buildings and garages rent out monthly bike room spaces. Rental rates range from $15.00 to $20.00 per month. A bike room with 50 bike spaces renting out for $15.00 per month will generate $9,000.00 per year in revenue. The #1888 pay for themselves in less than one year on average.
Our New Jersey Facility also stocks tenant storage cages in single tier – full height and double tier – stacked doors. Built to last. Manufactured with 1/4″ thick welded wire in rust resistant galvanized, Black or Gray. Doors stocked 3′ wide and 4′ wide. Each door has a full height anti-theft lock bar, Welded hasp for padlocks and number tag. Our Team provides Complementary Tenant Storage Cage and Bike Room Layouts daily in NJ, NYC & Philadelphia. Contact us today for immediate assistance. Sales@LockersUSA.com
Wall Mount Bike Racks delivered free to NJ, NYC, Brooklyn, Queens NY, Staten Island, Bronx , Philadelphia.