Tenant Storage Cages NJ. Manufacturer and Master Stocking Distributor of Tenant Storage Cages and Wall Mount Bike Brackets. Conveniently located in Central New Jersey. Out trucks deliver daily in New Jersey, NYC, Brooklyn, Queens, Bronx and Staten Island.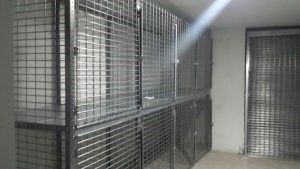 Manufactured with 1/4″ thick welded wire in Rust Resistant Galvanized, Black or Gray. Our welded wire storage cages are more than double the welded wire thickness manufactured by others, Providing increased security for the lowest overall cost.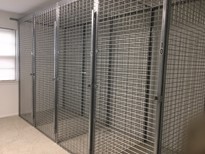 Doors stocked 3′ wide and 4′ wide, Each door has the industries only Anti-Theft full height lock bar. Welded hasps for padlocks and number tags included on each door.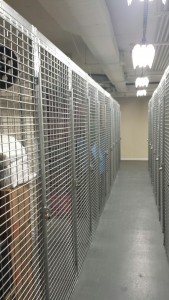 How to save money buying Tenant Storage Cages in New Jersey. Here is how to reduce your costs by at least 1/3rd. Every row of storage cages begins with a starter unit (2 side panels & 1 door) The rest of the row is filled with add on units ( 1 side & 1 door) after the starter unit is set up to start the row, The add on unit is attached to the starter units side panel. Reducing the amount of sides needed.
Common sides not only save money but make the entire row more secure. Additionally rows off the walls come with backs in the same welded wire mesh material and color. Most buildings order tenant storage cages in New Jersey with the units attached directly to the rooms existing walls and floors. Backs and floors can be included on request.
Tenant Storage Cages NJGenerate excellent revenueto help recover from pandemic debt. Converting an underutilized basement to a tenant storage room will generate quick, ongoing revenue. Today and even before the pandemic Developers, Condo Boards, Apartment buildings charge a monthly rental fee for each storage cage. The rental rates range from $75.00 to $150.00 per month depending on the size. A residential building with 60 storage cages renting our for $75.00 per month will generate $54,000.00 per year in revenue. The ROI averages just 7-8 months on standard size units. Contact us today for immediate assistance. Email Sales@BikeRoomSolutions.com or P(917) 701-5795.