Bike Brackets NYC. Bike Room Solutions bike brackets allow bikes to be stored just 12″ apart. By alternating the heights of the brackets the handlebars will not touch neighboring bikes. Easy to use and space efficient the #1888 wall mount bike bracket can increase existing bike room storage up to 50%.  Bike Room Solutions #1888 is all welded, powder coated shiny black. Each bike bracket comes with a cushion coated security cable, That can be looped around the bike frame, both rims and padlocked  with the owners lock.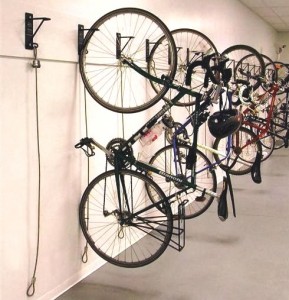 Bike Room Solutions provides complimentary  layouts to help you create a user friendly, Space efficient bike room that will keep the floor totally clear for ease of access.  Backed with our exclusive lifetime warranty the #1888 is considered Best in Class.  Bike Room Solutions ships nationwide our bike brackets are easy to install. We provide easy to understand instructions to install the brackets. We also provide instructions and video's on how to use our #1888 Bike Brackets. Out BikeNicians provide complimentary  layouts six days a week.  Contact us today for immediate assistance.   Sales@BikeRoomSolutions.com. Or, call us at P(917)701-5795.
Bike Room Solutions also stocks Tenant Storage Cages in NYC in two types – Full size – Walk in and Double Tier – Stacked in 12 standard sizes. Manufactured with 4ga welded wire in rust resistant galvanized and Powder coat gray or black. 4ga welded wire is double the thickness of 8ga or 10 ga provided by others. Providing increased security at no additional cost.  Tenant Storage Cages typically are attached directly to the rooms existing walls and floors. Backs come standard for units in the middle of the room. Tops, backs, floors, shelves can be installed upon request.
Bike Brackets NYC, Wall Mount Bike Racks NYC, Wall Mount Bike Brackets, Bike Hangers, Vertical Bike Racks, New York City. Brooklyn, Queens, Bronx, Staten Island, Westchester, Long Island NY, New York.