Wall Mounted Hanging Bike Brackets New York City. Designed to allow bikes to be spaced just 12″ apart. Easy to use, Minimal lifting. Stocked in NYC. Lockable, Complimentary layouts. Manufactured with cushion coated powder coat steel with a shiny black finish. #42488 bike brackets helps create space saving, Easy to use bike rooms. Increases existing bike room storage 50%. Widely specified by Architects, Developers, Contractors and Property Managers.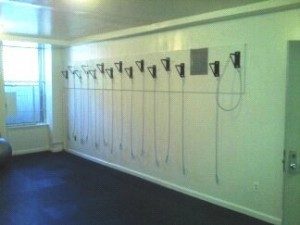 #42488 provides long term – maintenance free bike room solutions. Our Bike Room Techs provide code compliant layouts with dozens of bike room set up tips. If the bike room walls are sheet rock our techs recommend adding plywood supports over the bike walls 22″ high x 2″ thick across the walls. Prior to installing #42488 bike brackets our techs suggest painting the walls and plywood supports in a matte or semi gloss finish so that dirt marks can easily be removed with a wet cloth. If space is tight, We space the bike brackets 12″ apart and alternated the heights of the brackets 64″ & 74″ from the cushioned bike hook to the floor so the handlebars don't touch other bikes. If the room is spacious space the bike brackets on 24″ centers at 64″ high. Then when additional bike storage is needed put the additional #42488 bike brackets in between the installed bike brackets at 74″ high. Designed for indoor or outdoor use.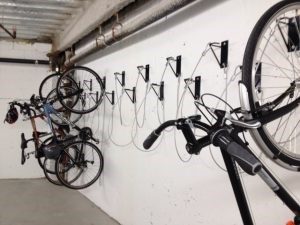 Wall Mounted Hanging Bike Brackets New York City generates revenue. Today most developers, landlords, Co-op and Condo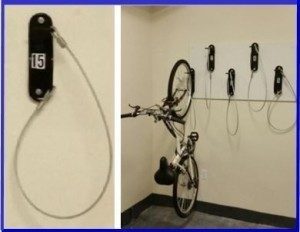 boards charge a monthly rental fee for on site bike storage ranging from $10.00 to $25.00 per month. Bike Rooms with 60 bike spaces renting out for $15.00 will generate $10,800.00 revenue per year.
Bike Room Solutions also stocks Tenant Storage Cagesin NYC in full height – walk in typed and Double Tier – Stacked in 24 standard sizes.Manufactured with 4ga welded wire (double the thickness of 10ga wire). Each Tenant Storage cage has full height anti theft lock bars, Welded hasps for padlocks or cylinder locks. Sizes range from 3′ wide x 3′ deep to 8'wide x 16′ deep x 7′ 90″ or 8'H. Higher units can be quickly installed with our modular stacking panel design. Stocked in rust resistant Galvanized, Powder coat black and gray. Our team provides complimentary layouts six days a week. Contact us now for immediate assistance. Sales@BikeRoomSolutions.com
or feel free to use our complimentary layout form.
Wall Mounted Hanging Bike Brackets New York City, Wall Mount Hanging Bike Brackets NYC, Vertical bike racks, wall mount bike brackets New York City, Queens NY, Brooklyn, Bronx, Staten Island, New York.