Bike Security Cages. Widely used in parking garages, hotels and residential buildings designed to provide secure visual storage. Manufactured with heavy duty framed welded wire in rust resistant galvanized or 5 standard powder coat colors. Built to last, Framed with heavy duty posts 2″ x 2″ x 1/4″ thick x the height requested.
Based in New York City our Bike Security cages and bike racks ship regionally from six National Distribution Centers.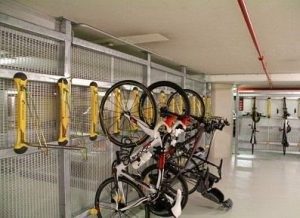 Bike Security Cages can be 4 sided, 3 sided, 2 sided or 1 sided. The buildings wall side or back can be used to create a side. Ceilings can be added or the Bike Security Cage can go to the ceiling. Costs can be substantially reduced when the bike cage is below piping, ducts, etc. Most bike security cages are 8′ high with our without ceiling.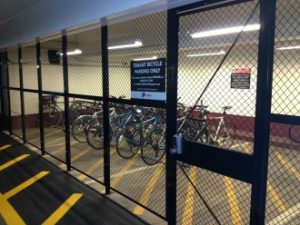 Bike cage doors stocked in hinged and sliding 3′ wide and 4′ wide, Locks can be keyed cylinder locks, welded hasp for padlock, card wipe with coding to 240 bike owners, push button or key fob. Doors can have interior push bars and automatic hydraulic door closers set to allow a bike owner to pass through the door with bike, then automatically close. Electric strikes or mag locks can also be added.
Bike Room Solutions provides one stop shopping for secure bike storage from Bike Storage cages to lockable Bike racks and wall mount bike brackets with locking cables. Our team provides Complimentary Bike Security Cage Layouts.
Contact us today, Our six regional office are open six days a week. Sales@BikeRoomSolutions.com or P(888) 963-5355 in the NYC Metro area call or text P(917) 701-5795.
Bike Security Cages, Bike Storage Cages, Bike Lockers, Bike Storage Lockers, Secure Bike Storage. Bike Security Cages delivered daily to New York City, New Jersey, Brooklyn, Bronx, Queens NY, Philadelphia, Staten Island, Pennsylvania, Newark, jersey City, Boston, Chicago, Minnesota. Long island City, Williamsburg, Baltimore, Virginia Beach, Delaware, Washington DC, Nationwide.