Bike Hangers New York City. Wall Mount Bike Hangers maximize space. Designed to allow bikes to be stored just 12″ apart. Lockable, Easy to use. No Heavy Lifting. Complimentary Layouts. Revenue Generator. Free delivery, Professional Installations.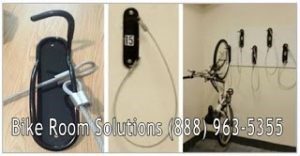 Built to Last Bike Hangers New York City are manufactured with Cushion coated steel with a shiny black powder coat finish. #42488 Bike Hangers can be spaced just 12″ apart when the bike room is tight. Our Bike Techs provide complimentary bike room layouts 7 days a week Either online or on site. Bike Room Solutions based in New York City techs alternate the bike hangers heights 64″ & 74″ from the cushioned bike hook to the floor when spacing the bike hangers every 12″ so the handlebars don't touch other bikes.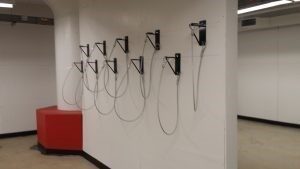 Bike Hangers New York City generate revenue. Most developers, landlords, Co-op and Condo boards charge a monthly rental fee for on site bike storage ranging from $10.00 to $25.00 per month. A bike room with 60 bikes renting out for just $10.00 per month will generate $7,200.00 in revenue per year. Maintenance free. The Bike room typically pays for itself on 6-7 months. (ROI).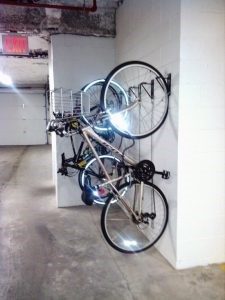 Along with our complimentary bike room layouts and installations our team provides numerous tips to create a maintenance free bike room with room to grow while being code compliant. If the bike room walls are sheet rock, We recommend adding plywood supports over the bike walls 22″ high x 2″ thick. Prior to installing the bike hangers Consider painting the walls and plywood supports in a matte or semi gloss finish for easy removal of dirt marks with a wet cloth as shown in our pictures. Or ask for a quote on the aluminum tread plate walls. P(917) 701-5795.

Bike Room Solutions also stocks Bike Storage Cages for parking garages available in rust resistant galvanized or 5 standard powder coat colors. Doors can be either hinged or sliding. Locks can be welded hasps for padlocks, cylinder locks with keys, Card Swipe or key fob. Installation normally takes just 1 day. Our NYC Office is open Monday through Friday 6AM to 6PM and Saturdays and Sundays 7AM – 2PM contact us today for immediate assistance. Sales@BikeRoomSolutions.com or P (917) 701-5795.
Bike Hangers New York City, Wall Mount Bike Racks NYC, Wall Mount bike brackets NYC, Bike Racks NYC, lockable wall bike brackets, Bike Cages, Bike storage cages NYC, Bike Security Cages, Bike Hangers delivered daily to New York City, Brooklyn, Queens NY, Bronx, Westchester, Long Island, Jersey City, Fort Lee, Newark, Hoboken, Cliffside Park, Clifton, Bloomfield, New York, New Jersey.