Vertical Wall Mount Bike Racks NYC. Increase existing bike storage by 50%. Easy to use. Complimentary Layouts, Lockable, Free Delivery. Generates Good Revenue. Based in New York City BikeRoomSolutions bike techs provide space saving bike room layouts designed to allow bikes to be spaced just 12″ apart. #42488 wall mount bike brackets are easy to use, No heavy lifting. Just roll the front wheel up the bike wall and place the front tire onto the cushion coated hook. #42488 has a five foot long cushion coated cable that can be wrapped around the bicycle frame, both rims and secured with the owners lock. Popular with Architects, Developers, Co-op and Condo boards, Apartment Buildings and Garages.
#42488 Vertical Wall Mount Bike Racks NYC is manufactured with cushion coated powder coat steel in medium gloss black. Rated for indoor or outdoor use. Our bike techs provide Complimentary Bike Room Layoutssix days a week either online or onsite, Feel free to use the form in the link above or contact us for assistance.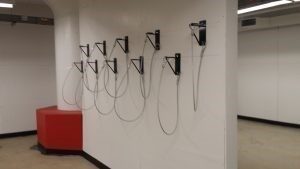 BikeRoomSolutions provides numerous free bike room set up tips to help create a maintenance free, Self managed bike room. if the bike room has sheet rock walls we urge all to add plywood supports over the bike walls 22″ high x 2″ thick. We are available to install or we can show your staff how to install at no charge, Prior to installing #42488 bike brackets consider painting the bike walls and plywood supports in a semi gloss or matte finish for easy clean up of dirt mark with a wet cloth.
Vertical Wall Mount Bike Racks NYC generates good revenue. Today most developers, landlords, co-op, condo boards and parking garages charge a monthly rental fee for onsite bike storage ranging from $15.00 to $25.00 per month. Bike Rooms with 55 bike spaces being rented out for $15.00 per month will generate $9,000.00 per year in revenue. The Return on investment (ROI) averages just 6-7 months.
BikeRoomSolutions NYC facility also stocks Bike Storage Cages and Tenant Storage Cages. Our team provides complimentary layouts in the five boroughs six days a week. Contact us for immediate assistance. Sales@BikeRoomSolutions.com
Vertical Wall Mount Bike Racks NYC, Wall Mount Bike Racks NYC, Bike Racks NYC, Bike Storage Cages NYC, Vertical wall mounted bike racks New York City, Vertical Wall Mount Bike Racks delivered daily to New York City, Brooklyn, Queens, Staten Island, Long Island City 111101. All of New York.