Tenant Storage Lockers Brooklyn. Manufacturer and Master distributor of storage cages and wall mount bike racks. Complimentary Layouts, Generates excellent revenue, Free delivery in Brooklyn. Our Brooklyn facility stocks single tier – full height and double tier – stacked door tenant storage cages in 4ga thick welded wire (which is more than double the wire thickness of 10ga). Providing increased security at a lower cost than 10ga with the industries only 5 year warranty. Each door has a full height anti-theft lock bar and welded hasp for the residents padlock. Stocked in Rust resistant galvanized, Grey and Medium gloss black. Doors are stocked in 3′ wide and 4'wide hinged. Tenant Storage Lockers in Brooklyn has in inventory 48 standard sizes available. Most residential buildings have the storage lockers installed directly onto the rooms walls and floors. Backs, Floors, Tops, Shelves can be added on request. Our Team provides Complimentary Tenant Storage Cage Layouts six days a week. Email is for immediate assistance. Sales@BikeRoomSolutions.com
Tenant Storage Lockers generate excellent revenue to help offset debt created by the pandemic. Most buildings rent out storage cages from $65.00 to $250.00 per month. a basement with 50 cages renting out for $75.00 per month on average will generate $45,000.00 per year in revenue. The ROI averages just 7-8 months.
in addition to Tenant Storage Lockers in Brooklyn, Our 190,000 square foot facility also stocks space saving, Easy to use, Locking Wall Mount Bike Brackets. Designed by our bike room techs that understand the needs of today's urban bike rooms.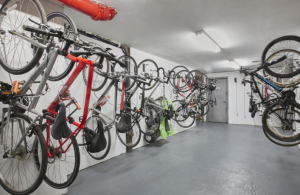 When space is tight, Bikes can be spaced every 12″, we alternate the heights of the bike brackets so the handlebars do not touch other bikes. Attached to each #42488 bike bracket is a fie foot long cushion coated security cable that can be wrapped around the bike frame and both rims. Then secured with the bike owners lock. Our Bike Techs provide Complimentary Bike Room Layouts daily. Feel free to use the quick form in the link above or contact us for an on site layout Phone (917) 701-5795.
Wall Mount Bike Racks Brooklyn, Tenant Storage Lockers delivered free to Brooklyn, Queens NY, New York City, Staten Island, Bronx.