Wall Mount Bike Brackets Brooklyn NY. Store Bikes just 12″ apart, Lockable, Easy to use. Complimentary Bike Room Layouts. Stocked in Brooklyn. Attracts Tenants, Generates Revenue. Free Delivery, Professional Installations. Attracts new Residents.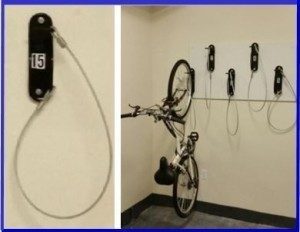 Manufactured with cushion coated welded steel, With a shiny black powder coat finish. Widely specified by Architects, Developers, Landlords, Co-op and Condo Boards. Each #42488 Wall Mount Bike Bracket has a 5′ long cushion coated security cable that can be wrapped around the bike frame, both rims and secured with the bike owners lock. Our Bike Room Techs provide Complimentary Code Compliant layoutssix days a week. With long term maintenance free bike room set up suggestions that will keep the bike room efficient, User Friendly, And geared for future growth when possible.
If the bike room walls are sheet rock, We recommend adding plywood supports over the bike walls for secure anchoring. Our install team or yours install plywood supports 22″ high x 2″ thick with toggle bolts. Prior to installing #42488 bike brackets paint the walls in a matte or semi gloss finish for easy removal of dirt marks with a wet cloth. Our techs install the brackets on 12″ centers when space is tight, Alternating the bike bracket heights 64″ and 74″ so the bike handles don't touch other bikes.
Wall Mount Bike Brackets Brooklyn NY generates revenue. today most developers, Landlords and Building Boards charge a monthly rental fee for bike room storage ranging from $15.00 to $25.00 per month. A bike room with 60 bike spaces renting out for $15.00 per month will generate $10,800.00 per month. With #42488 Bike Brackets the return on investment is very quick averaging just 5-6 months. Backed with the industries only lifetime warranty. #42488 is a sound investment.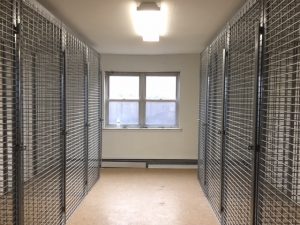 Our Brooklyn facility also stocks tenant storage cages in Single Tier – Full height – walk in and Double Tier – Stacked. Manufactured with 4ga welded wire in Rust resistant Galvanized and Powder coat gray or black. Each Door has a welded hasp or cylinder lock and a full height anti-theft lock bar. Doors stocked in 3'w and 4′ wide in hinged. Stock size cages range from 3'w x 3'd x 7′ h, 90″h or 8'h. Most buildings attach the tenant storage cages directly to the rooms walls and floors. Tops, Backs, Floors can easily be installed as an option. BikeRoomSolutions provides the lowest overall cost with a lifetime warranty. Creating a maintenance free, code compliant, revenue generator. Contact us today for immediate assistance. Our team provides Complimentary Layouts six days a week. Sales@BikeRoomSolutions.com or Phone or Text (917) 701-5795.
Wall Mount Bike Brackets Brooklyn NY, Wall Mount Bike Racks, Wall Mount Vertical Bike Racks, Bike Racks, #1888 bike brackets, #42488 wall mount bike brackets, Bike Brackets Brooklyn, Tenant Storage Cages Brooklyn NY, Tenant Storage Lockers Brooklyn. Wall Mount Bike Brackets Brooklyn NY delivered free to Williamsburg, Park Slope, Bushwick, DUMBO, Brooklyn Heights, Bushwick, Greenpoint, Fort Greene, Cobble Hill, Flatbush, Carroll Gardens, Prospect Heights, East New York, Prospect Heights, Coney Island. Brighton Beach, Bay Ridge, Bensonhurst, Red Hook, Greenpoint, all of Brooklyn.