Vertical Wall Mount Bike Racks Brooklyn. Stocked in Williamsburg, Free Layouts and delivery, Lockable, Revenue Generator, Lifetime Warranty. Popular with Developers, Landlords, Condo Buildings, Apartments and Parking Garage. Designed to allow bikes to be spaced just 12″ apart. Biker Friendly, Minimal lifting.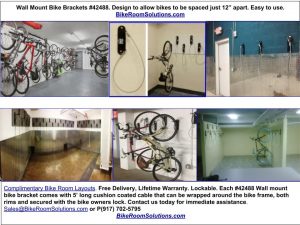 Manufactured with cushion coated powder coat steel with a medium gloss black powder coat finish. Attached to each #42488 bike bracket is a 5′ long cushion coated security cable that can be wrapped around the bike frame, both rims and locked.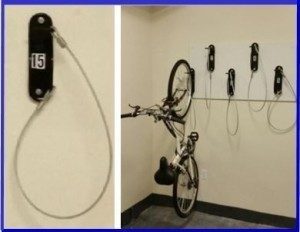 Vertical Wall Mount Bike Racks Brooklyn provides Complimentary Bike Room Layouts 7 days a week. Either online or onsite. Our complimentary layout includes bike room setup tips to create a Self Managed, Maintenance free, Space saving, Secure Bike Room.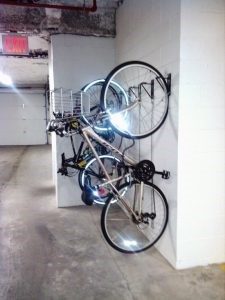 If the bike room walls are sheet rock, Our Bike Room Techs suggest adding plywood supports over the walls 22″H x 2″ thick for secure anchoring. Prior to installing the bike brackets paint the walls in matte or semi gloss finish for easy removal of dirt marks.
Vertical Wall Mount Bike Racks Brooklyn is a revenue generator. Most developers, landlords, Condo Boards, Apartments and Garages charge a monthly rental fee for onsite bicycle storage ranging from $15.00 to $25.00 per month. Bike Rooms with 60 bike spaces renting our for $15.00 per month would generate $10,800 per year in maintenance free revenue. The ROI is 6-7 months.
BikeRoomSolutions in Williamsburg also stocks Bike Storage Cagesand Tenant Storage Cages. Our team provides complimentary layouts 7 days a week. Contact us today for assistance. Sales@BIkeRoomSolutions.com or P(917) 701-5795.
Vertical Wall Mount Bike Racks Brooklyn, Wall Mount Bike Brackets Brooklyn, Commercial Bike Racks Brooklyn, Bike Rack Manufacturer, Wall Mounted Bike Bracket Brooklyn, Bike Storage Cages Brooklyn, Tenant Storage Cages Brooklyn, Tenant Storage Lockers Brooklyn. Vertical Wall Mount Bike Racks delivered daily to Williamsburg, Green Point, East New York, Prospect Heights, DUMBO, Park Slope. Sunset Park, Brooklyn Heights, Bushwich, Flatbush, Bedford Stuyvesant, Greenpoint, Cobble Hill, Red Hook, Brighton Beach, Coney Island, all of Brooklyn.