Bike Hooks Brooklyn. Space Saving, Easy to use, Free Bike Room Layouts. Commercial grade Bike Hooks in Brooklyn made with all welded steel with a powder coat shiny black finish. Designed to allow bikes to be spaced just 12″ apart. Built to last with the industries only Lifetime warranty on the bike brackets and install.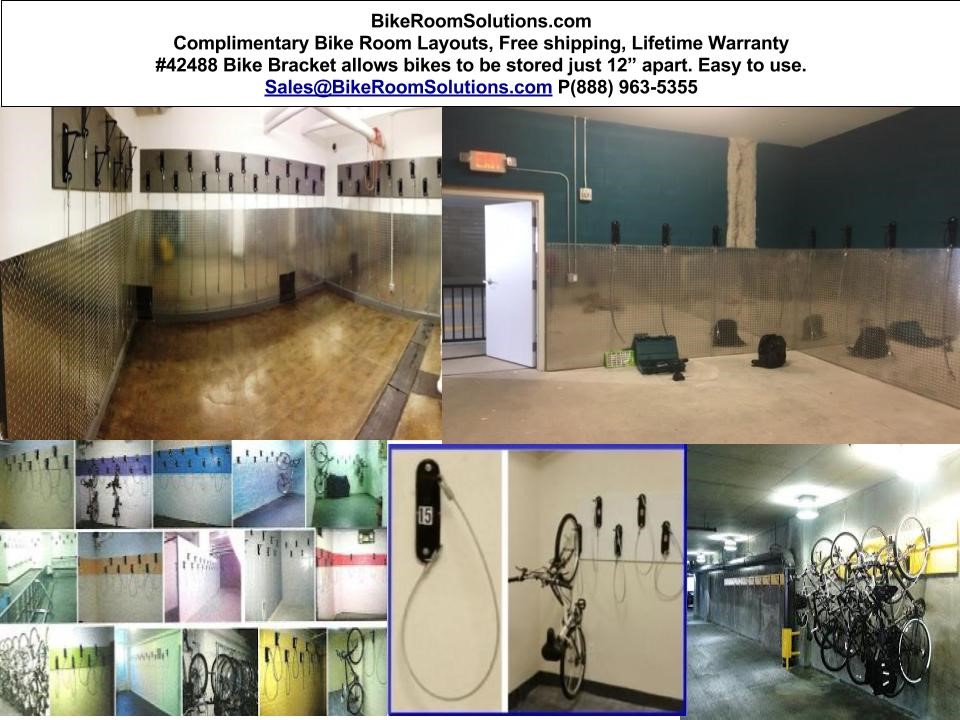 Each #42488 wall mount bike hook comes with a 5 foot long cushion coated security cable that can be looped around the frame, both rims and secured with the owners lock.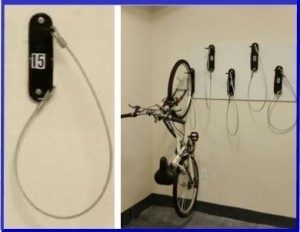 If the walls are sheet rock we recommend adding plywood support onto the wall for added anchoring support 2″ thick x 20″ high across the bike wall. The paint the bike wall and supports with a eggshell or semi gloss finish for easy removal of dirt marks with a wet cloth.
#42488 wall mount bike brackets create a space efficient, user friendly bike room while keeping the floor totally clear for easy passage at all times. Our team provides complimentary layouts and miles of bike room management tips to keep the room well maintained with no maintenance required, Backed with our lifetime warranty.
BikeRoomSolutions has hundreds of #42488 wall mount bike hooks throughout Brooklyn. Contact us today for immediate assistance. Sales@BikeRoomSolutions.com or feel free to fill out our complimentary bike room layout form.
Bike Hooks Brooklyn, Wall Mount Bike Hooks Brooklyn, Wall Mount Bike Brackets Brooklyn, Wall Mount Bike Hangers Brooklyn, Wall Mount Bike Racks Brooklyn. areas served daily Brooklyn, Queens, NYC, Harlem, Washington Heights, Staten Island, Bronx, Long Island City, Astoria, Forest Hills, New Jersey.