Wall Mount Bike Brackets Arlington. Easy to use, Store bikes just 12″  part, No Lifting Required. Free Layouts, Lifetime Warranty. BikeRoomSolutions provides space saving wall mount bike brackets that maximize space and user friendly. Our bike room team has decades of bike room space planning and extensive wall mount bike bracket design experience. Widely used nationwide #42488 wall mount bike brackets have become the most popular bike bracket choice based on quality, warranty and added security.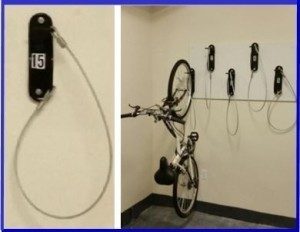 Each #42488 wall mount bike bracket is all welded steel with a durable powder coat shiny black finish. Rated for indoor or outdoor use. Each #42488 wall mount bike bracket comes with a 5′ long, cushion coated security cable that can be wrapped around the bike frame, Both rims and secured with the bike owners lock.
BikeRoomSolutions wall mount bike brackets and complimentary bike room layouts eliminate congested bike rooms, increases bike room capacity up to 50% and provides secure bike storage with the industries only lifetime warranty
Our Bike Room team provides miles of bike room planning tips to help you create a Space Saving, Easy to use bike room. #42488 wall mount bike brackets can increase storage space by up to 50%.  If the bike room has Sheetrock walls, We suggest adding plywood supports over the gypsum, 2″ thick x 20″ high for secure anchoring. Prior to installing the bike brackets paint the walls and plywood supports with a semi gloss paint for easy removal of dirt marks with wet cloth.

Our inventory also includes No Lifting Wall Mount Bike Brackets designed for high end residential buildings and senior living buildings and parking garages.
Easy to use, Just tilt the bike onto the back wheel and roll the bike toward the NL1888 No Lift bike brackets into the guide rails and the bike is set. NL1888 is also space saving, Bikes can be stored just 14″ apart.
Fat Tire Bike Brackets: Holds Fat Tires up to 5″ diameter and is no lifting, Just tilt the bike onto the back wheel and roll the bike onto the bike guide rails.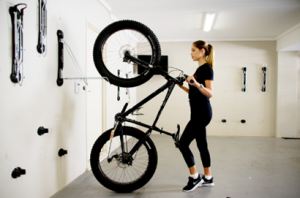 For assistance with bike bracket selection, Complimentary Bike Room Layouts or pricing, Contact us now. Sales@BikeRoomSolutions.com or P(888) 963-5355
Wall Mount Bike Brackets Arlington, Wall Mount Bike Brackets Arlington VA., Wall Mount Bike Brackets Maryland, Wall Mount Bike Brackets Alexandria, Wall Mount Bike Brackets Fairfax, Wall Mount Bike Brackets Washington DC, Bike Hangers Virginia,