Bike Hooks Chicago. Easy to use, Space Efficient Bike Hooks in Chicago. Free Layouts, Lifetime Warranty.  BikeRoomSolutions #42488 Wall Mount Bike Hooks are designed to allow bikes to be spaced just 12″ apart. Ideal for Co-op, Condo, Office buildings and Parking Garages.
#42488 wall mount bike brackets are made with all welded steel, Built to last with a durable powder coat shiny black finish. Each bike bracket comes with a 5 foot long cushion coated security cable that can be wrapped around the bike frame, Both rims and secured with the bike owners lock.

Our Bike techs  provide Complimentary space saving  layouts, Professional installations with the lowest cost and lifetime warranties.
Our team provides miles of bike room tips that will keep the bike room neat and organized with minimal management needed.  If the bike room walls are sheet rock (gypsum) we recommend adding plywood supports behind the brackets for secure anchoring.  2″ thick x 20″ high across the bike walls is ideal. We space the #42488 wall mount bike brackets on 12″ centers and alternate the heights 66″ and 76″ so the handlebars don't touch other bikes.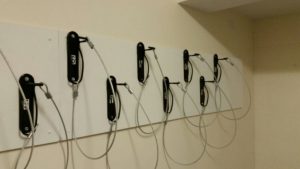 Landlords, Developers, Co-op and Condo boards can generate revenue with bike storage with monthly storage rentals. In Chicago bike storage rentals range from $15.00 to 25.00 per month.
If your creating a new bike storage space or need to reconfigure the existing bike room to add more space for more bikes our team provides complimentary bike room layouts in Chicago daily. Contact us for immediate assistance. Sales@BikeRoomSolutions.com or give us a call P(888) 963-5355
Bike Hooks Chicago, Wall Mount Bike Brackets Chicago, Wall Mount Bike Hooks Chicago. Bike Hangers Chicago, Wall Mount Bike Racks Chicago, Wall Mounted Vertical Bike Brackets Chicago.