Wall Mount Bike Brackets Chicago. Space Saving, Easy to use wall mount bike brackets in Chicago. #42488 is rapidly becoming Chicago's leading wall mount bike bracket. Designed to allow bikes to be spaced just 1 foot apart. Backed with the industries only Lifetime Warranty.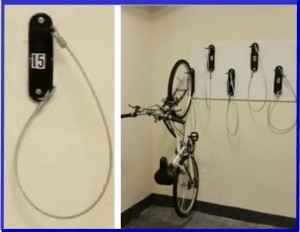 We alternate the heights of the bike brackets so handlebars do not touch other bikes. Each #42488 has anti theft qualities we attach a 5′ long cushion coated security cable that can be wrapped around the bike frame, Both rims and locked.  with features that bike owners look for in bike storage. Each of our wall mount bike brackets are all welded, with a powder coat finish. Rated for indoor or outdoor use.
Our BikeNicians provide complimentary bike room layouts, Just fill out the form in this link and we will get to work.  Bike Room Layout Form. Creating a new bike room or if you need to create additional bike space in an existing bike room (up to 50%) our #42488 will create an easy to use bike room with room to grow.  Our bike team is passionate about bike rooms, We offer plenty of complimentary bike room tips so that your bike room is maintenance free and uncluttered for years to come. Ask for our complimentary bike room management guide. Widely used by property managers, landlords and facility managers. Our office and local warehouse is open 6 days a week contact us today for immediate assistance. Email us Sales@BikeRoomSolutions.com or give us a call P(888)963-5355
Wall Mount Bike Brackets Chicago, Wall Mount Bike Racks Chicago IL. Daily free deliveries to Chicago, Buffalo Grove, Wheaton, Lisle, Lindenshire, Itasca, Elmhurst, Winfield, Downers Grove, Lake Forest, Mundelein, Bedford Park, Le Grange, Oak Park, Franklin Park, Naperville, Skokie, Oak Brook, Schaumberg, Illinois.
Wall Mount Bike Brackets in Chicago by zip code 60601, 60602, 60603, 60604, 60605, 60606, 60607, 60608, 60609, 60610, 60611, 60612, 60613, 60614, 60615, 60616, 60617, 60618, 60619, 60620, 60621, 60622, 60623.