Tenant Storage Cages Jersey City. Proudly serving Jersey City for 113 years. Our Journal Square office provides Complimentary Tenant Storage Cage Layouts daily. Our local distribution center stocks full height – single tier and two tier tenant storage cages – stacked doors in 48 standard sizes in rust resistant galvanized, Grey and medium gloss black. Manufactured with 4ga thick welded wire, Which is more the double the thickness of 10ga provided by other brands. Providing increased security at the lowest overall cost.
Each of our storage cage doors have full height anti-theft lock bars and a welded hasp for padlocks. Cylinder locks with keys can be included on request. Doors stocked in hinged 3′ wide and 4′ wide x 90″h or 8'h. Shorter doors available on request.
Most residential buildings have the tenant storage cages attached directly to the rooms walls and floor. Backs, Floors, Tops, Shelves can be included on request. Welded wire backs come standard with units not along a wall.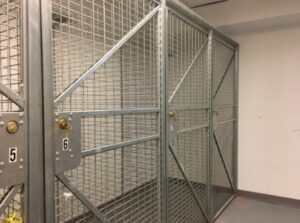 Tenant Storage Cages in Jersey City Generate excellent revenue and pay for themselves in less than one year. Tenant Storage Cages in 2022 are rented out to residents from $75.00 to $150.00 monthly depending on the size. A residential building with 35 storage cages renting our for $125.00 per month on average will generate $52,500.00 per year in revenue. The cages typically pay for themselves in less than one year.
Our team provides Tenant Storage Cages Layouts six days a week. Contact us today for immediate assistance. P(917) 70-5795.
BikeRoomSolutions.com of New Jersey manufactures and is a master stocking distributor of Wall Mount Locking Bike Racks, Tenant Storage Cages and Welded Wire Lockers.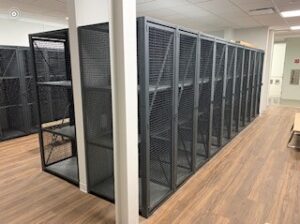 Our Welded Wire Lockers stocked in single tier – full height doors, two tier – stacked doors and triple tier- stacked doors in 48 standard sizes.
The framed all welded wire lockers have a welded hasp on each door for padlocks. The back of the lockers can have a fill height welded wire panel or full height door for quick access to load the lockers with parts and equipment quickly.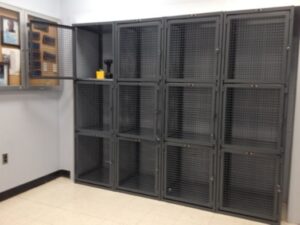 Our team provides Complimentary Layouts six days a week. Contact us now for immediate assistance. Sales@BikeRoomSolutions.com
Tenant Storage Cages delivered daily to Jersey City, Newark NJ, Rahway NJ, Woodbridge NJ, Elizabeth NJ, Red Bank NJ, Perth Amboy NJ, New Jersey,