Vertical Bike Racks Red Bank. Create a space efficient bike room with #1888 Wall mount vertical bike racks. Designed to allow bikes to stored just 12″ apart when space is tight. Lockable bike storage, Ideal for Condo. Apartment indoor and outdoor bike storage.
Bike Room Solutions Red Bank office provides code compliant Complimentary Bike Room Layoutssix days a week. Manufactured with cushion coated, steel in a power coat medium gloss finish. Attached to each #1888 Wall Mount Bike Bracket is a five foot long cushion coated security cable that can be wrapped around the bike frame and both rims, Then secured with the bike owners lock.
If your building already has a bike room that has become unmanageable, Give us a call. Typically our #1888 Wall mount vertical bike racks will increase the bike rooms capacity by 50% while keeping the room within code and the floor totally clear for safe passage.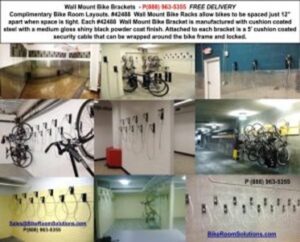 Our facility also stocks tenant storage cages locally.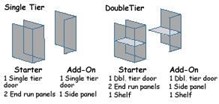 for residential buildings. Manufactured with 4ga welded wire in rust resistant galvanized, grey and black.
4ga is more than double the welded wire thickness of 10ga offered by other brands. Each door has a welded hasp for padlocks and full height anti-theft lock bar. Tenant storage cages are available in single tier – full height 90″ high or 8'h and two tier – stacked doors. Storage cages are available in 48 standard widths a depths. Our Techs also provide Complimentary Bike Room Layouts six days a week.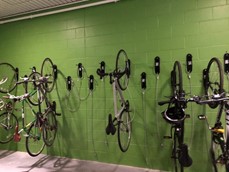 Vertical Bike Racks and Tenant Storage Cages in Red Bank generate excellent revenue. Most developers charge a monthly rental fee for bike storage averaging $15.00 per month. A bike room renting out 55 bike spaces at $15.00 per month will generate $9,900. per year in Revenue. #1888 bike brackets will pay for themselves in 7-8 months on average.
Tenant Storage Cages typically rent out from $115 to $125.00 per month. A storage cage room with 40 tenant storage cages renting out for $120.00 on average will generate $57,800.00 per year with an ROI of 9-10 months. Contact us today for a bike room and or tenant storage cage layouts. Sales@BikeRoomSolutions.com
Wall Mount Bike Racks Red Bank, Asbury Park, Eatontown NJ 07724, Matawan NJ 07747, South Amboy NJ, Long Branch NJ, Tenant Storage Cages Newark NJ,