Wall Mount Bike Brackets Edison NJ. Maximize bike room space efficiently with Wall Mount Bike Brackets. Vertical bike storage, More than doubles the bike room capacity. Easy to use, Locking, Code compliant bike storage., While keeping the floor clear.
#1888 Wall Mount Bike Brackets have been designed for today's bike rooms in Condo buildings, Apartment Complexes and garages. Manufactured with scratch proof, Coated steel with a powder coat, Medium gloss black finish. Bikes can be locked onto our #1888. When needed our bike bracket has been designed to allow bikes to be centered every 12″. We alternate the heights of the brackets, So the handlebars don't touch other bikes. When the bike room is initially spacious, Bikes can be spaced on 24″ centers.
Wall Mount Bike Brackets generate revenue. Today, Most developers, Condo boards and Apartment complexes rent out bike storage space monthly. Rates range from $10.00 to $15.00 per month. A bike room with 50 bike spaces renting out for $10.00 per month, Will generate $6,000.00 per year in revenue. #1888 bike brackets will pay for themselves in less than one year.
Our Edison NJ Bike Techs provide complimentary bike room layouts daily. either online or onsite. Contact us for immediate assistance. email Sales@LockersUSA.com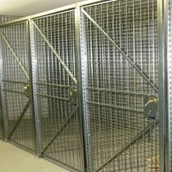 Our distribution center near Edison NJ also stocks Tenant Storage Cages Manufactured with rust resistant galvanized in single tier – full height cages 90″ high and double tier – stacked door cages. Each two tier cage is 45″ high, 90″ overall. Doors are either 3′ wide or 4′ wide. Each door has a welded hasp for the residents lock and full height anti theft lock bar. Our team provides complimentary tenant storage cage layouts daily. Contact us today for immediate assistance. email Sales@BikeRoomSolutions.com
Wall Mount Bike Brackets delivered free to Edison NJ, Woodbridge, Rahway NJ, Piscataway, Red Bank NJ,